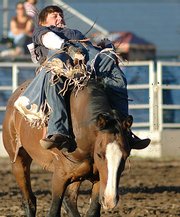 Jerad Schlegel was in Missouri on Wednesday night, drove to Oklahoma on Thursday and planned to hit New Mexico and Oregon on Friday and Saturday.
The trip figured to run nearly 2,500 miles, about 85 percent of a cross-country San Francisco-to-New York trek, but Schlegel didn't see anything like Times Square or Pier 39. Instead, the journey included an evening at the 70th annual Rangers Rodeo in Lawton, Okla., a frustrating day in Sikeston, Mo., and a stop at the self-proclaimed "Crown Jewel of them All," the Lea County Fair and Rodeo in Lovington, N.M.
The road may have seemed everlasting, but there's a light at the end - thousands, actually - and no dusty town or long truck ride could shake that thought from Schlegel in the middle of the trip.
"I can make it," the 22-year-old Burns cowboy said. "As long as the summer keeps going good, I know I can make it."
The lights at the end of Schlegel's road come from the brilliant glow of Las Vegas - the "it" - and the dream that's had him scurrying across the country since January: the Wrangler National Finals Rodeo bareback competition, a part of the massive Dec. 4 to 13 rodeo event in Vegas.
Working for the money
It's all about the money and not at all about the money in the world of rodeo.
Schlegel has dreamed about being a professional rodeo cowboy since he first climbed aboard a horse on his family's ranch near Burns in northern Eagle County as an un-afraid, ever-ambitious toddler.
"He started in the (National Little Britches Rodeo Association) when he was 8 and always did really well with goats, the flag race and roping, but he kept saying he wanted to ride bareback horses," his mother, Sherri Schlegel, said. "Whenever anyone asked him want he wanted to do when he grew up, he always said 'Be a professional bareback rider.'"
He rode a collegiate rodeo scholarship to within one class of a Farm and Ranch Management degree at Vernon College in Vernon, Texas, but first cut his name in the sport without amassing any sort of rodeo fortune, riding for the dream more than anything.
The dollars are a little more important now, and one of the best parts of qualifying for the 10-day Vegas extravaganza.
The National Finals Rodeo is a collection of 10 separate rodeos and is seen as the World Series of the sport. It offers fame for its champions along with fortune, as one of the highest paying events of the year.
Invites are only doled out to the top-15 bareback riders in the Pro Rodeo Cowboy Association's world rankings. Schlegel currently sits at 17th.
The rankings are based on money won. The little boy who never figured on being anything but a professional cowboy is now a man who's banked $36,031 in the first seven months of 2008.
Cutting it Close
Sometimes the rodeo circuit gets rough.
Like Schlegel's stop in Sikeston last week. The horse he climbed out on wouldn't settle down, bucking in the chute and making it impossible to even begin to ride.
He got his rodeo entry fee back, but that didn't do much to cover the cost of the food, the lodging and the gas that helped him get to the small southeastern Missouri city.
"The last couple of weeks have been pretty slow. I'm just getting by and not drawing really good horses," he said, explaining that drawing a good horse is at least half the battle. "I'm riding decent, doing my part and making good rides when I can, but I haven't been getting the breaks."
The quest for the dream nearly came to an end last year after a string of bad luck.
Broke, far from home and starting to run low on good will and infusions of cash from his ever-supportive parents, Randy and Sherri, Schlegel nearly packed it in.
"We said, 'Jerad, we just can't do this anymore,'" Sherri said.
The family has helped out by cheering whenever rodeos bring Jerad even remotely close, by encouraging him to chase his dream at every turn, by propping him up through disappointing stretches and by always being ready on a cell phone to book a last-second airline ticket.
"He said he was entered in two more rodeos, one in Dodge City and one in Eagle. I told him, 'If you don't win, you're going to have to come home,'" Sherri said. "He didn't win Eagle, but he won $3,600 at Dodge City, so he got to keep going.
"Things have been a lot better since January."
Closing in on the dream
Schlegel said it will take a little luck for him to make it this year - a couple good horses, a few great rides or just the opposite from his competitors.
Thousands of miles remain in Schlegel's summer plans, and hundreds of rides remain in his future, he said, no matter how the rest of 2008 goes.
Some day, he said, he'd like to get back to a ranch and work full time. "Some day" won't be any time soon, however.
"It's something I love. I love traveling, have an awesome life and I'm around my best friends all the time," he said. "It's been a dream, and it's coming true now. It's awesome."
- To reach Joel Reichenberger, call 871-4253 or e-mail jreichenberger@steamboatpilot.com