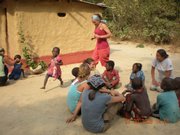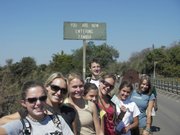 Steamboat Springs — Having returned to Steamboat Springs after a 21-day volunteer trip through Africa, six young travelers said the trip taught them the value of simple things - such as a hot shower, a change of clothes and the power of balloons to delight a room full of children.
The first scarcity the group of Steamboat Springs High School students and two leaders encountered was lost luggage, which didn't arrive until after they had spent eight days in Zambia. The setback made the travelers realize what was important, leader Lennae Jenkins said.
"By not having our luggage, we realized we don't need a lot," she said. "But, it was like Christmas when we did get our bags."
The students also found their happiness was not determined by anything in their suitcases.
"It gave me a new sense of what can make you happy, and how it doesn't take anything except spending time with little kids," student Kayleigh Esswein said. She also discovered the joy of balloons when the group was working with young children near the chimpanzee sanctuary where the students volunteered.
"We held up a balloon and asked them what color it was, and then we would blow it up and give it to them," Esswein said. "By the end, the room was filled with balloons. I loved how a simple thing like a balloon could light up a room."
Their time was divided among the chimps and the children as they taught English on some days and fed the primates on others. The students from Steamboat are rising sophomores, while the students they taught ranged from elementary to high school.
They also taught more universal lessons with games such as duck, duck, goose.
"They loved it," said student Natalie Wright. "It was an initiation thing, and after we played the games we could spend more time with the kids, one on one."
Wright was drawn toward a 5- or 6-year-old girl named Mouenka, who insisted on being carried around the school grounds.
"By the end of the day my arms were sore," Wright said.
Maria Hillenbrand said she was amazed by the response from the children.
"The part that made me feel really good was after the first day when we played with them. The second day, when we came back, they ran up to us and were excited to see us," she said.
Chimps and children
To take care of the chimpanzees at the sanctuary, the students pumped water, fed the animals and even were allowed to go on a "bush walk" to see the baby chimps.
The group had been planning the trip since they were in the eighth grade and, after 48 hours in Zambia, student Michael Savory decided he wanted to make a return trip. The group has no immediate plans for that return, but they said they would like to lead other students to Zambia, perhaps in two years.
Savory said the change back to Steamboat was startling.
"I was surprised how easy it is here, not worrying about things like water," he said.
Natalie Greer said the pace of life also was a big adjustment when she returned. In Zambia, she said, she was happy to sit and relax around the campfire, but now that she is home, she is not as content to sit without activity.
"Instead of sitting around the campfire, I'm sitting watching TV," she said.
Sitting around the campfire, the group would relax, write in their journals and try to cook up some snacks.
"One time around the campfire we were craving American food, so we tried to make banana foster. : It was interesting," she said.
Greer said she also enjoyed the "dawn patrol," where she would wake up at 5 a.m. and walk an hour to where the chimps slept to see them come out in the morning.
"It was nice to see the chimps at a different pace. They weren't running around because they had just woken up and were still sleepy," she said. "It was a peaceful thing to do because I would come back and my friends were still asleep, and it was nice to have done something with my day already."
After spending 14 days at the chimpanzee sanctuary in north-central Zambia, the group traveled to the southern city of Livingstone for three days before crossing the border into Zimbabwe and Botswana, where they spent three days, including a visit to Victoria Falls.
- To reach Zach Fridell, call 871-4208
or e-mail zfridell@steamboatpilot.comx