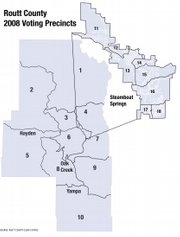 Precinct polling locations
Early Routt County Courthouse Annex
1, Moon Hill School House
2, 5, Hayden Town Hall
3, 4, Steamboat Springs Community Center
6, 7, Steamboat Christian Center
8, 9, Oak Creek Town Hall
10, Yampa Town Hall
11, 12, Centennial Hall
13, 14, Routt County Courthouse Annex
15, 16, Yampa Valley Medical Center
17, 18, Mountain Resorts
Steamboat Springs — Routt County Clerk and Recorder Kay Weinland used one word to describe the early turnout for a primary election ballot nearly devoid of contested races: "slow."
"We've had like 68 people vote, which is an indication that Election Day will be slow, as well," Weinland said midday Thursday. "But it's a good trial run for the general (election). It's got us all geared up."
This year's primary election is held from 7 a.m. to 7 p.m. Tuesday. Early voting continues from 8:30 a.m. to 6 p.m. today at the Routt County Courthouse Annex. Voters have the choice of voting electronically or by paper ballot.
In the only contested race on the ballot, Grand County Republicans Randy Baumgardner and Dan Korkowski are competing for the opportunity to face Routt County Democrat Todd Hagenbuch for the House District 57 seat to be vacated by state Rep. Al White, R-Hayden, who is term-limited and running for the state Senate against Steamboat Springs Democrat Ken Brenner.
Voting is open to registered Republicans only. Unaffiliated voters may select a party at any time up to and including primary election day, but the deadline to change party affiliation has passed.
Weinland said the meager turnout is to be expected, with only one race featuring two largely unknown candidates.
"Without a real local focus and a real local interest, turnout tends to be minimal," she said.
Korkowski acknowledged the same, but encouraged voters to cast a ballot.
"Even though there's only one contested race going on, I believe it's an extremely important race for Northwest Colorado," Korkowski said. "We'll see what the people say. Hopefully, my message has gotten out and people like it. : I don't have a private agenda. I just want to do what's right for them."
Baumgardner was traveling to some of his last campaign stops Thursday. He hopes to visit Kremmling, Rifle, Meeker, Craig and Rangely before Tuesday.
"All the county fairs are going on right now, so we're trying to hit as many of those as I can," Baumgardner said. "I am for the people because the people are the government, and I'd like to see a little bit more of that. To see people involved."
Election tune-up
Reports filed with the Colorado Secretary of State's office show Korkowski has raised twice as much money as Baumgardner, but both candidates downplayed any significance. Korkowski has raised $13,166.43 and has $222.22 on hand. Baumgardner has raised $6,475, of which he still has $3,190 on hand, according to the reports.
"Money's money," said Baumgardner, a Hot Sulphur Springs rancher. "Money doesn't win elections."
Baumgardner also said "all the numbers aren't in yet" and says he has raised several thousand dollars that have yet to be reported.
"I don't believe money is a factor," said Korkowski, who works for the city of Grand Lake and owns a video rental store. "I believe the person's background and their plan and vision for the future is the big issue."
In laying out their plans, Korkowski and Baumgardner first mentioned their commitment to protect the Western Slope's water supply. Baumgardner said that, as a rancher, he is the more experienced candidate on that issue.
In the eastern portion of the house district - which includes Routt, Grand, Moffat, Garfield, Rio Blanco and Jackson counties - Korkowski also mentioned the state's mountain pine beetle epidemic as a major concern. He said he would like to continue lawmakers' work in 2008 to help alleviate the costs of mitigating the impacts of the epidemic. In the west, Korkowski spoke of a need to promote responsible energy development.
White also was traveling Thursday. He said he is not endorsing a candidate to replace him in the state House.
"I'm letting people make their own decision," White said. "It's up to the candidates to show voters what they offer. It's not up to me."
Weinland said that, although it's been slow, this year's primary election season has been a good warm-up for November's general election. This election is the state's first time using a new statewide voter registration system mandated by the federal government.
"I've been pleasantly surprised," Weinland said of the system. "It seems to be handling the traffic well."
Compared to Routt County's previous voter registration system, Weinland likened the switch to going from a Cadillac to a "Pinto with no air conditioning." But she said the system is functional and that she doesn't expect any problems when an expected record number of voters turn out for the November election.
"I'm optimistic that Election Day is going to be successful," Weinland said.
- To reach Brandon Gee, call 871-4210
or e-mail bgee@steamboatpilot.com