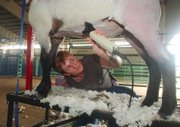 p>Tickets for fair events
- Tickets for the Aug. 14 Bellamy Brothers show and the Aug. 15 Demolition Derby are on sale through the Routt County Fairgrounds, at 276-3068, and at the Routt County Cooperative Extension Office, in the Routt County Courthouse Annex on Sixth Street in Steamboat Springs. Tickets cost $10 for adults and $5 for children. A pit pass for the derby is $20.
- Immediate family members of 4-H participants get a discount on tickets; for them, everything but the pit passes costs $5, Delay said. Families must buy those tickets by Friday at the Extension Office.
Steamboat Springs — 4-H members plan to pitch in to help a friend at this year's Routt County Fair.
Part of the proceeds from the Junior Livestock Auction on Aug. 16 will benefit 10-year-old Tyler Johnson, who recently lost his feet and part of the fingers of his right hand to amputation after an illness. Tyler's 4-H club has challenged other members to donate part of their sales proceeds to his medical fund.
A friend of Tyler's has an extra lamb, which will be sold at a silent auction at the fairgrounds in Hayden, Routt County 4-H Agent Jay Whaley said. All of the profits from that sale will go to Tyler's fund, Whaley said.
Those who buy animals at the sale "have the opportunity to donate to the charity of their desire," he said. "They can donate the animals to the Tyler Johnson fund. We're trying to help him out."
Whaley said he expected 4-H members to sell about 110 steers, lambs and pigs this year.
"It's huge for the kids," he said. "It's great for the buyers. It can be a tax write-off for them. : The kids work all year and sell their animals and pay for project."
Whaley said 4-H studies have shown that most of the profits from the livestock sale go to college funds for the participants. The rest of it typically goes toward the cost of next year's project, he said. Caring for the animals is tough work, Whaley said. One survey showed that youths who show steers care for them for nearly 10 months.
"About 9.6 months is the average time they have possession," Whaley said. "They have to go out and feed and water that steer. It's a big commitment for them."
Before the sale, which is at 6 p.m. Aug. 16, the 4-H participants will dish up a meal.
"And then the big deal is the barbecue," Whaley said. The Bobby Robinson Memorial BBQ starts at 4 p.m. that day.
"Bobby Robinson passed away; he started the barbecue years and years ago," Whaley said. "The 4-H kids serve the barbecue, and typically we've had anywhere from 800 to 1,000 people there who eat. All the buyers typically come prior to the sale."
The Routt County Fair is the main event in an already busy time for 4-H members.
Dozens of them participated in Saturday's Exhibit/Demo Day in Hayden. Those youths presented projects in leathercraft, culinary arts, clothing design and veterinary science, among others.
Many of the winners will go on to compete at the Colorado State Fair.
"These kids are from all over Routt County and have worked very hard on their projects," Extension Agent Karen Massey wrote in an e-mail.
Guides to the fair are available across the county and at the Extension Office in Steamboat Springs. More information also is online at routtcountyfair.org.
Whaley highlighted a few upcoming events. The horse shows start Friday and run through the weekend, and the dog show is at 9 a.m. Monday.
He encouraged people across the county to come for the Dress Your Animal show at 10 a.m. Aug. 15.
"You don't have to be in 4-H; it's an open show," Whaley said. "Our high school Junior Leaders put the show on. It's open to anybody. They can bring a dog or a lamb or any animal down for the Dress Your Animal contest. We've had turkeys and chickens. It's really fun."