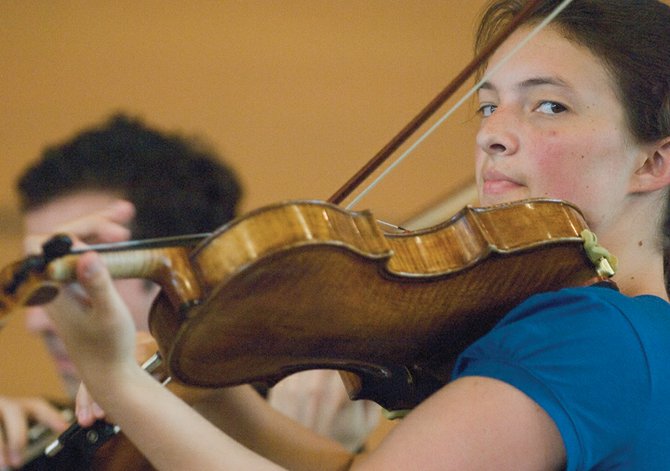 Tom Ross: Performers' hands speak volumes at Strings
Tom Ross
Tom Ross' column appears Tuesdays and Saturdays in Steamboat Today. Contact him at 970-871-4205 or tross@SteamboatToday.com.
Find more columns by Tom here.
When we strolled into the Strings Pavilion on Saturday night, I fully expected Heidi Krutzen's harp to present a musical experience like none I'd ever encountered. And I was pretty certain that Mike Garson's premiere of a piece of music created expressly for Strings with vocalist Nnenna Freelon would stretch the boundaries of what we know as the lullaby.
What I did not anticipate was that Mark Nuccio would rip a clarinet solo in the midst of Garson's "Lullaby for our Daughters" that rocked the house.
I was even more unprepared for the sensual experience of watching Krutzen's hands flutter through the air like birds every time she took them off the strings of her instrument.
It was a pretty special night that was sponsored by Gail and Brooks Kellogg and Holly and Gary Nelson. Ken Greene aided my understanding of the music with his concert commentary. He put the music into its historical context. Greene enriched the performance with anecdotes about the composers that made them come into focus as believable personalities.
However, I cannot go further without 'fessing up to the fact that I do not listen to chamber music around the house. What I confirmed Saturday night is that it doesn't matter if you and I don't have a special affinity for the classics. We still can find ourselves mesmerized by performances of the music of Ravel, Debussy and Dvorak in the Strings Pavilion.
I was captivated for much of the evening, which was billed as "Classics to Crossover."
It began with compatible pieces for harp, flute and viola, one by Maurice Ravel and another by Claude Debussy. Lorna McGhee's flute soared, and it was a pleasure to be able to listen to David Harding's viola independent of violin and cello.
I was struck by the concentration required of Krutzen as she played her complex instrument and by the swirl of sounds it produced.
And then, time almost was frozen during the interludes when she took her hands off the strings and moved them through the air in slow motion until they alighted on the strings once again.
The evening's program made a gentle left turn in musical idioms when the classically trained Nuccio and a string quartet merged with Garson's jazz combo.
Just as Krutzen expressed herself both through the harp and with her hand movements, so did jazz vocalist Freelon, who possesses a precise instrument of her own. I heard every consonant that Freelon sang in a warm, assured voice.
When she wasn't singing, Freelon closed her eyes and squeezed her hands open and shut while her arms flowed with the music. You had to be there to understand.
Garson promised us that he would work out on the simple lullaby theme that he originally had written for his daughters many years ago, and when he took his solo, he danced around that simple phrase like the virtuoso he is.
The final performance Saturday night was a challenging piece by AntonÃn Dvorák, beautifully led by violinist Sheryl Staples.
This week marks the final week of chamber music at Strings this summer, although there are more performances in the Different Tempos series to come. Don't miss out on the classical music.
Tickets remain available at the box office for the all-Beethoven final featuring a 42-piece orchestra.
- To reach Tom Ross, call 871-4205 or e-mail tross@steamboatpilot.com