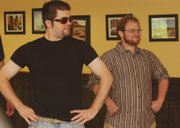 Past Event
Saturday, August 16, 2008, 2 p.m.
Steamboat Christian Center, 821 Dougherty Rd, Steamboat Springs
All ages / $5 - $15
Steamboat Springs — It's a chorus line heard from aspiring professionals in fields from politics to newspapers to opera productions: you've got to have experience to get experience.
For the 13 developing singers participating in Emerald City Opera's inaugural Opera Artist Institute for Emerging Singers, that experience will come in the next two weeks with a tour of Mozart's "Cosi fan tutte" across Northwest Colorado.
"This is kind of a stepping stone, where you go to these programs that you have to pay to go to, and then you move on," said Elizabeth Bouk, who just earned her master's degree from Westminster Choir College and is one of two female leads in "Cosi."
The three-week program of vocal training, staging rehearsals, touring and main stage productions offers aspiring career opera singers a chance to expand their repertoire in their own production, as well as take small roles or be in the chorus for ECO's full-scale production of "La Traviata" at Steamboat Springs High School on Aug. 15 and 17.
Artist institute students will take "Cosi" to Walden, Craig and Saratoga, Wyo., before bringing it to the Steamboat Christian Center on Aug. 16.
Valerie Davia, the opera's education and community outreach coordinator, said the program offers an opportunity to bulk up the "La Traviata" chorus with near-professional singers, and also sticks to ECO's mission of bringing classic musical drama to a larger audience.
"We started it to give the education and training to young singers, because that's very much a part of the mission, and also to expand Emerald City Opera's reach into neighboring communities and have more accessible shows in English," Davia said.
One of Mozart's lighter operas, "Cosi," has a basic plotline that remains relevant to most audiences: Two men, convinced their lovers will forever be faithful to them, make a bet with a man who thinks otherwise. They wear disguises to test their theory, and hi-jinks ensue.
Cody Laun, a junior at Colorado State University and one of the show's male leads, said his voice teacher convinced him to audition for the program.
"It was kind of a surprise. I got a call and an e-mail from my voice teacher within 12 hours, and she said, 'I've got an audition for you,'" Laun said. "I wasn't really interested in performing until this year, and then it flew at me all at once."
Annie Gill, who just finished school at The Peabody Institute of the Johns Hopkins University and is one of the opera's female leads, said having a strong part in "Cosi" and singing with professionals in "La Traviata" were important steps to achieving her goals.
"I saw that they were doing 'Cosi,' and this was a role that I wanted to do that was important to get on my resume," Gill said.
The "Cosi" cast will perform at 12:15 p.m. Aug. 12 at Yampa River Botanic Park.
- To reach Margaret Hair, call 871-4204
or e-mail mhair@steamboatpilot.com