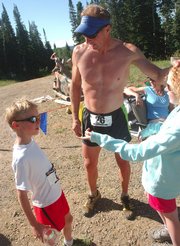 Mount Werner Classic 12-mile and 5-mile top results
12-mile race
Men:
Andy Picking 1:48:23
Shawn Scholl 1:49:37
Travis Mattern 1:52:36
Women:
Karen Lapides 2:12:52
Nancy Dolan 2:13:57
Stephenie Scholl 2:16:28
5-mile race
Men:
Mark DeWine 50:54
Brian Tate 54:47
Scott Thorton 58:04
Women:
Christy Coughlin 1:02:00
Missy Krause 1:03:00
Jenny Fox 1:06:23
Steamboat Springs — There isn't much that 7-year-old Tyler Scholl loves more than running.
Which is why most of the competitors in Saturday's 14th annual Mount Werner Classic didn't seem too surprised when Tyler beat them to the finish line at the top of the Steamboat Ski Area gondola.
"I feel terrible," Tyler said with a smile moments after he crossed the finish line. "That was hard and painful and tiring."
It took Tyler 1 hour and 54 seconds to finish the 5-mile race up Mount Werner and score a fourth-place finish. He was the youngest runner in the event and came in 10 minutes behind cross-country runner Mark DeWine, who finished first with a time of 50:54.
"I was thinking about finishing the race and going swimming with my sister after," Tyler said of his motivation to get through the hardest parts of the race. He said the last hill, just before the finish line, was the most difficult part.
Tyler's got big shoes to fill - it's appropriate that his dusty green running shoes seem a little too big for him - as he follows in the footsteps of his father, Shawn Scholl. The elder Scholl finished in second place during the 12-mile portion of the Mount Werner Classic, with a time of 1:49:37.
"The race was good - you can't beat the view," Scholl said after being congratulated by Tyler.
Scholl said Tyler and his 11-year-old sister, Tabor, love to run, and he rarely has to push them.
"Running makes me feel good and helps me build my strength and ability," Tyler said. "And it's really fun to run fast."
The family, including mother Stephenie Scholl, trains together. They often can be found running in the evenings in Kremmling, where they live. Stephenie also ran the 12-mile race and finished in third place, with a time of 2:16:28.
After winning the 5-mile race, DeWine headed straight to the water station to recover from a course that he described as "tough the whole way." He decided to run the race about an hour before start time to help get in shape for the upcoming cross country season at The College of Wooster in Wooster, Ohio. The Mount Werner Classic is his last race before the season starts.
Race organizer Emily Conjura said attendance for the race was low this year, possibly because of the early start time, warm temperatures and multiple other races scheduled around the state. On average, between 70 and 80 people show up for the race, but this year, there were 31 competitors in the 12-mile race and 30 in the 5-mile run.
Andy Picking finished first in the 12-mile race, with a time of 1:48:23. The first-place female in that race was Karen Lapides, with a time of 2:12:52. Christy Coughlin took first place for women in the 5-mile race, with a time of 1:02.
"It was a good race, I felt really good about it," Conjura said.
- To reach Kristi Mohrbacher, call 871-4243 or e-mail kmohrbacher@steamboatpilot.com