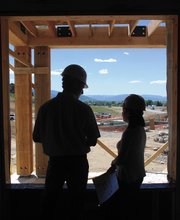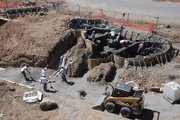 Steamboat Springs — When Trailhead Lodge is complete a year from now, owners on the south side of the building will overlook a series of grotto-style hot pools linked by a cascade and flanked by boulders and landscaping.
The pools are one of the signatures of the $71 million condominium hotel, which broke ground last summer in the Wildhorse Meadows development near the base of Steamboat Ski Area.
"You have to understand we have a budget of $6.8 million to support our amenities," said Resort Ventures West Vice President Brent Pearson. "This is what will set us apart," from other new developments at Mount Werner.
Development Manager Mariana Ishida said the pools are patterned after the natural hot springs in Strawberry Park.
In addition to the grotto pools, she said, there is a youth pool and a large lap pool. The amenities at Trailhead Lodge also include a game room for youngsters, a lobby lounge, a 1,000-square-foot fitness room, outdoor fire pits for gatherings on mild winter days and the detached Ranch House for larger gatherings.
Pearson and Ishida were overlooking the grotto pools Thursday from a fourth-floor residence where the dry wall recently has been installed.
On the west side of the building, siding has been installed and painters are working on either side of a 60-foot tall natural ledge stone wall.
Below the vantage point enjoyed by Pearson and Ishida on the south side of the building, workers for Monarch Pools were hand-shaping the interior of the pools, curing a complex concrete pour.
The three-bedroom-plus-den condominium in which the Resort Ventures West executives were standing boasts nearly 180-degree views to the south from a large deck. Oversized windows will let ample winter sunlight bounce around inside the 10- to 13-foot ceilings. It will even feature an accordion exterior wall that opens to the fresh air. The condo remains available for $2.3 million, but another similar unit next door is under hard contract.
Trailhead Lodge is an 184,000-square-foot, five-story building built in a modified U-shape. Prices last summer began at $430,000 for a studio unit. All of the studios and one-bedroom units are sold out, but there are some one-bedroom-plus-den condominiums available.
Bobby Aldighieri, a member of the sales team, said 23 of the 86 units remain on the market. When finished, all of them will be fully furnished and equipped.
Trailhead enjoyed a successful sales event in Denver in late July 2007 that saw 62 of 86 units go under hard contracts with an aggregate value of $56 million.
"There have been no fall-outs (of the initial contracts)," Pearson said. "These are loyal buyers who respect the Steamboat market and understand the longer-term prospects."
See-first market
Director of Sales and Marketing Kerry Shea said a significant number of prospective buyers are "engaged" in learning about Trailhead this summer. However, Trailhead has not put any units under contract this season.
"Buyers are taking a little
bit more time this summer," Shea said.
"They are more the type who want to be able to see it and touch it," Ishida agreed. "The pre-sale purchasers were very sophisticated buyers," all of whom already had a longtime attachment to Steamboat.
She added that Trailhead buyers are coming from all over the United States, and many are influenced by down real estate markets at home.
In this environment, Pearson said, with the troubles in the financial markets, people are more apt to want to see the project built before they commit. Resort Ventures West has the advantage of being able to show prospective buyers that the project is fully funded by a loan from Bank of America and is protected from cost overruns by a contract that caps the maximum construction cost, he added.
The value of the construction contract is $38 million, Pearson said. The total cost of the project, with land costs added, is $71 million. That figure does not include $2.5 million being spent on furnishing the condominiums, and the nearly $7 million for the amenities.
Ishida expects to have a fully furnished two-bedroom model unit on the second floor ready by October.
Furnishings and color schemes have been custom-speced by The Ranch House Interior Design in Boulder. Their clients include the Park Hyatt Beaver Creek, Northstar Highlands Ritz Carlton at Lake Tahoe, Calif., and Arrow Leaf Lodge in Deer Valley, Utah.
They are not being purchased off the shelf, Ishida said. For example, dining tables are being built one by one. Details like door hardware will be costly oiled bronze.
The fact that the building is roughly in a U-shape and not a simple rectangle results in lots of interesting angles in the walls and opportunities to differentiate the units from one another, Ishida said.
"When we're working with siting the units we are really respectful of everything around us," Ishida said. "We pay attention to everything around us, (like) 'Where does the sun set?'"
- To reach Tom Ross, call 871-4205
or e-mail tross@steamboatpilot.com