Photo Gallery
The Last Stand: Part 2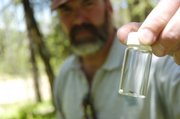 Driving up the interior of British Columbia is like watching the death march of a single tree hit by the mountain pine beetle. The dense forest is lush and green in the south. Trees slowly turn shades of orange and red farther north, on the fringes of the beetles' current spread. It starts with a tree here. Another there. Then an entire stand. Before long, entire hillsides are afire. If you didn't know what the ruby-tinged countryside signified, you might consider the vast and startling sight appealing, or even beautiful. But continue on, and there's no mistaking the calamity. The red-needled trees eventually are replaced by their inevitable successors, and thorny, gray expanses conquer the landscape.
Global warming
See audio slideshow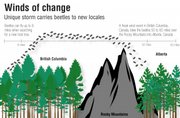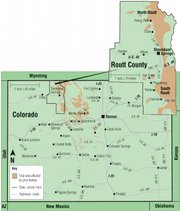 Colorado by the numbers
Acres impacted by mountain pine beetles
Routt County 79,456 (2006) 134,080 (2007) +54,624 (change)
Jackson County 149,512 (2006) 252,170 (2007) +102,658 (change)
Grand County 287,982 (2006) 273,979 (2007) -14,003 (change)
Summit County 39,070 (2006) 50,974 (2007) +11,904 (change)
Eagle County 60,381 (2006) 48,500 (2007) -11,881 (change)
Larimer County 3,152 (2006) 121,104 (2007) +117,952 (change)
Boulder County 1,600 (2006) 26,200 (2007) +24,600 (change)
Gilpin County 1,936 (2006) 16,250 (2007) +14,314 (change)
Clear Creek County 7,904 (2006) 29,493 (2007) +21,589 (change)
Park County 15 (2006) 2,850 (2007) +2,835 (change)
Lake County 1,903 (2006) 3,535 (2007) +1,632 (change)
Pitkin County 2,294 (2006) 1,209 (2007) -1,085 (change)
Chaffee County 2,291 (2006) 2,123 (2007) -168 (change)
Source: U.S. Forest Service aerial surveys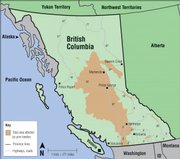 British Columbia by the numbers
- The cumulative area of British Columbia affected is estimated at 33.3 million acres, about four times the size of Vancouver Island.
- British Columbia is thought to have three times more mature lodgepole pine than it did 90 years ago, mainly because equipment and techniques for protecting forests against wildfire have greatly improved.
- 52 percent of lodgepole pines have been killed in British Columbia.
- 76 percent are expected to be dead by 2015.
In a laboratory at the University of Northern British Columbia in Prince George, a moving plate jostles eight test tubes inside a mirrored glass box. Bacteria in the test tubes are being used to grow the mountain pine beetle genes responsible for producing the insect's chemical defenses against lower temperatures.
Dr. Dezene Huber and his students hope to better understand the simple yet resilient insect that has destroyed forests, economies and lifestyles across the province.
"Our models tell us right now that the mountain pine beetle will kill approximately 76 percent of mature lodgepole pine by 2015," Jim Snetsinger, British Columbia's chief forester, said. "We believe the infestation has peaked but that it will continue to kill pine trees."
Following its destruction of tens of millions of lodgepole pine acres in Canada, the mountain pine beetle has nibbled its way south, killing forests throughout the Rocky Mountain West, including Northwest Colorado. Experts in Canada and the U.S. are beginning to call the insect epidemic the worst on record.
In January, the U.S. Forest Service announced Colorado's total infestation had reached more than 1.5 million acres, nearly all of the state's lodgepole pine trees.
The magnitude of the epidemic has caught many off guard, as evidenced by comments made in a 2004 DVD by John Twitchell, a Steamboat Springs-based forester with the Colorado State Forest Service.
"If we don't treat the mountain pine beetle now, the potential for thousands of acres to be killed, brown hillsides, is very real," Twitchell said at the time. "The mountain pine beetle may drive our management for a year or two."
Four years later, the affected acreage is in the millions, and a bearded Twitchell crisscrosses North Routt County in his state pickup. He's reached a point where, even driving by at 60 mph, he can spot the small signs of a beetle attack on trees that haven't even changed color.
"This is like the phenomenon of the century," said Twitchell, who believes Routt County will remain in peak conditions for another year or two. "I'm beginning to wonder if much is going to survive."
Common culprit
Despite the miles between Twitchell's pickup and Snetsinger's British Columbia office, the two men tell strikingly similar tales about the mountain pine beetle and their forests. Both stories begin with the sheer number of trees in the woods.
Twitchell said although Colorado grows 1 billion board feet of timber each year, only 100 million board feet are harvested. There were 2.7 billion board feet of timber in Colorado at the beginning of last century. That number increased to 6 billion by the dawn of the mountain pine beetle epidemic, Twitchell said.
Even in British Columbia, where forestry was long the top industry and still is a close second to tourism, Snetsinger said the number of lodgepole pines increased from 1.3 billion board feet in the early 1900s to 508.5 billion board feet when the epidemic began.
Ironically, efforts to save forests from one enemy may have only delayed their fall to another.
In Colorado and British Columbia, a common contributor to the booming pine population is fire suppression. Technological advances such as aircraft and lightning detection gave the West the ability to fight wildfires like never before, and the westward migration of people made nervous by the sight of smoke on the horizon gave officials a reason to use that power.
"We started to shift the age class in the forest," a bespectacled and clean-cut Snetsinger said in his office. "It's all a part of population dynamics."
The environmental logger
Twitchell described lodgepole pine as a "fire-dependent species : designed to burn in catastrophic, stand-replacing fires." For Twitchell, commercial logging goes hand in hand with good forestry and good environmental policy - especially if fires aren't allowed to burn.
"These openings that we create in the forest are the best way to mimic what a fire does as it creates an open space without any competition," Twitchell continued, "and that's what lodgepole pine needs."
For others, the idea of loggers mowing down forests doesn't mesh with the idea of protecting the environment. For a variety of reasons, mostly public sentiment, Twitchell said people like him have lost this battle during the past 35 years.
"That was in response to some real abuses," Twitchell said, "but we swung the pendulum too far the other way. So we've lost 35 years of regeneration. ... Thirty-five years of better management would have lessened the impact of all of this."
U.S. Forest Service spokesman Dave Steinke said officials have previously operated under the "10 o'clock policy," referring to public pressure from landowners to have all wildfires extinguished by 10 p.m.
"We have a mission: Put out all the fires," Steinke said. "As a result, we have a very unhealthy forest right now."
Officials now are toying with a new approach known as "appropriate management response." Officials will be less suppression driven and more resource management driven in determining whether and how to fight a wildfire.
On the commercial harvesting side, Mary Ann Chambers said the U.S. Forest Service is not increasing its allowable cut but is trying to get closer to it by putting up more timber sales and eliminating some of the red tape loggers face.
"We're excited that we do have some industry that can help us out with that stuff," said Chambers, spokeswoman for U.S. Forest Service's Mountain Pine Beetle Incident Management Team.
Unnatural occurrence
In the cab of his truck, Twitchell scans the blemished North Routt landscape through sunglasses and talks freely about the lack of logging in America, a net importer of lumber. He gets squeamish, however, when asked about global warming's potential contribution to the beetle epidemic.
"Obviously - at least our short-term records indicate - our winters have been warmer," Twitchell said carefully. "Phenomena like this are probably a direct result of it. : Everyone agrees with that whether you agree with global warming or not."
A few moments pass before Twitchell can no longer resist the urge to answer the question in less couched terms.
"Most scientists see a warming in the environment," he continued. "I think global warming is pretty acknowledged or accepted. In my opinion, we're having an impact on the environment.
"Some would define this as a natural disaster. I would call it a phenomenon. It's unprecedented. And it could be the result of global warming and mismanagement. To call it a natural occurrence is misleading, in my opinion."
Because the mountain pine beetle prefers old, weak trees, Snetsinger said pine forests stressed by age and competition were sitting ducks for a catastrophic outbreak of the insect that always has been endemic throughout the mountains of western North America. All that was missing, Snetsinger said, were the right climatic conditions.
Enter warmth and drought.
Snetsinger and other Canadian officials readily point a finger at global warming, perhaps because they have disproportionately felt its effects. Snetsinger said that while the mean global temperature has increased about 1 degree during the past 100 years, the mean temperature in northern British Columbia has increased about 4 to 5 degrees in that time.
"It certainly appears our warming climate is conducive to increased survivability of the mountain pine beetle," Snetsinger said. "It's just science. It is what it is."
Roy Mask, a Gunnison-based entomologist with the U.S. Forest Service, said higher temperatures could spell trouble for the Gunnison National Forest, where mountain pine beetle outbreaks always have been tempered by some of the coldest winters in the nation. Mask isn't encouraged by the fact that just over the Continental Divide in Lake County, the mountain pine beetle is flourishing.
"It could just be a matter of time," Mask said, "but we're trying to better understand why we're holding up better. It's a little bit perplexing to us why we're seeing so much activity in Lake County at similar elevations."
The potential role of global warming is made even more troubling in light of research conducted by Werner Kurz of the Canadian Forest Service. In an article published in the journal Nature, Kurz reported that, by 2020, British Columbia's forests will convert from "carbon sinks" to "carbon sources," meaning they will intensify the warming trends that may have contributed to their death in the first place.
Looking backward
Several hours southeast of Prince George, in the high-desert city of Kamloops, it's easy to believe in global warming. It's June 30, the eve of Canada Day, and it's 100 degrees in a city about 1,000 miles northwest of Steamboat. Crooked pines dot the hillsides around the town.
In addition to possibly contributing to the mountain pine beetle epidemic, Snetsinger said climate change also frustrated British Columbia's response to it. According to the province's Ministry of Forestry and Ranges, it takes several consecutive days of temperatures of about minus 30 or minus 40 degrees to kill a substantial amount of a mountain pine beetle population. In the early fall or late spring, sustained temperatures of about minus 15 degrees can do the trick. Snetsinger said such conditions used to occur like clockwork once a decade.
The last time it happened was 1985.
"We just haven't seen that stuff for a long, long time," Snetsinger said. "What we were trying to do was control it until a cold-weather event. We were looking backward. It had always come before."
Based on his experience with previous mountain pine beetle outbreaks, Twitchell is shocked about what the mountain pine beetle has accomplished this time around.
"We started with a 'We can beat this thing' attitude," Twitchell said. "Our past history had said that we can stop this."
Efforts across Colorado have proved as futile as those in British Columbia. On the slopes of Mount Werner, Doug Allen said the Steamboat Ski & Resort Corp. aggressively fought the beetle for about six years. They used the same cutting and debarking techniques that successfully mitigated an earlier outbreak of the spruce bark beetle. Allen, Ski Corp.'s vice president of mountain operations, estimated the cost of those efforts at $60,000 a year.
"It's disturbing, after all that effort, we lost the battle," Allen said. "It was a lost game from the beginning. They got so ahead of steam that there was no way to head it off."
In a fourth-floor office in downtown Kamloops, Dave Cornwell has one job: control the beetle's spread in Alberta so that it doesn't sweep across Canada's boreal forest.
"The federal priority is that they don't want the beetle to go across the country, of course," said Cornwell, assistant provincial bark beetle coordinator for British Columbia's Emergency Mountain Pine Beetle Response. "It's been a British Columbia problem up until now."
But the mountain pine beetle doesn't respect borders.
When mountain pine beetles emerge from dead, infested trees in the summer to fly to new host trees, they typically travel up to six miles. But, with the right wind conditions, they can go more than 50 to 60 miles. A freak wind event in 2006 carried British Columbia beetles straight over the Rocky Mountains into Alberta.
Despite the lessons British Columbia learned about "looking backward," Snetsinger and Cornwell confirmed that they are using the same techniques in Alberta: slowing the spread and waiting for severe cold spells.
"In B.C., it's had really ideal conditions, but in Alberta and Saskatchewan, you have much different climate conditions," Cornwell said. "It's not real hospitable to beetles."
A continental concern?
Back at the University of Northern British Columbia, Huber is less optimistic.
"The biggest concern is climate, and will the colder winters hold them at bay," he said. "There's some hope just the climate will shut it down, but with climate change :"
In black board shorts and a gray Badlands T-shirt, Huber looks more like a student than a scientist in the school's Ecosystem Science and Management Program. But the casual dress belies a man whose research has serious implications.
"One of the biggest worries right now is that the pine beetle is going to escape lodgepole pine," Huber said.
Huber and his students are studying the defenses different types of pines have against the beetle and, specifically, how the lodgepole pines of British Columbia compare to the jack pines of Alberta.
"We know from experiments that it can do good in jack pines," Huber said. "We have seen things to show us jack pine is less adapted to pine beetle, which is to be expected."
Huber said he would be "highly, highly surprised" if the mountain pine beetle sweeps across the country to the eastern seaboard, infiltrating the U.S. through heavily pined areas such as the Great Lakes and Mid-Atlantic regions. On the other hand, Huber doesn't hesitate to call this the "biggest insect infestation of historic times of any insect," and, as such, he expects some surprises.
Huber said, "There's a reasonable chance. If there wasn't a reasonable chance, I wouldn't be looking at it and neither would a lot of other people."
Evolutionary experiment
While trolling the woods of the Willow Creek Pass subdivision in North Routt County, Twitchell clips his sunglasses to the neck of his gray forest service polo and takes up a hatchet. He comes across what has become a rare site: an unsuccessful beetle.
"She's lost the battle," Twitchell says upon finding a beetle caught in a glob of sticky sap on the side of a lodgepole pine.
Twitchell said lodgepoles typically are quite successful at spitting beetles out with sap, but in an epidemic of these proportions, the trees are overwhelmed. Even on this tree, beetles that succeeded vastly outnumber the one that failed. Most of the boreholes in the tree have sap on them, but instead of a dead beetle caught inside, the globs are covered in frass, a fine sawdust that signals the beetle successfully worked its way inside the tree.
Beetles gang up on a tree by releasing a pheromone that attracts other beetles to the tree. Once the tree succumbs, the beetles release an anti-aggregation pheromone, or what Huber calls a "no vacancy" sign.
"The only reason they aggregate is to kill the tree," Huber said.
But with their numbers in the hundreds of billions, mountain pine beetles are ignoring their own signals and piling into trees regardless.
Beetles also are lowering their typically high standards for large, mature trees. Twitchell said beetles in Grand County have attacked trees as small as 3 inches in diameter; nearly all the literature on the insects says they won't attack trees smaller than 6 to 8 inches in diameter. Twitchell also said mountain pine beetles have been found to attack not only other types of pine trees, but also spruce and fir trees.
"More recently, we've watched pine beetles piling into spruce trees," Huber said. "Not many survive, but if they do, they do well, and the next generation prefers spruce."
Huber said only 10 to 20 percent of mountain pine beetles survive in spruce trees, and he would be "very highly surprised if they took off in spruce." If it were to happen, it would be an event of evolutionary proportions, Huber said.
"These things are older than the dinosaurs," Huber said. "Chances are they've had thousands if not millions of chances for this to happen, with limited successes.
Standing in a knee-deep slash pile in north Larimer County, logger Jerry Heggie picks a mountain pine beetle off the back of his neck. His comment is literal and unscientific but sums up the larger issue at hand.
"I think the bugs are getting bigger," said Heggie, examining the beetle squirming on its back in his palm. "I really do."