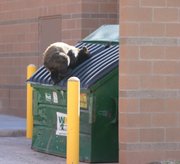 To report a bear
In most cases, call the nonemergency number for Routt County Communications at 879-1090. Non-emergency situations include bears in a backyard or deck, walking down the street, looking in windows or inside trash containers.
Call 911 if the bear has entered a house, if it collides with your bike or car, if the bear exhibits aggressive behavior and in similar emergencies.
Bear Safety Tips
- Place all trash in bear-proof containers, or put trash containers in a secure building and place them outside on the morning of scheduled trash collection.
- Regularly clean your garbage container with ammonia or bleach to remove food smells.
- Don't leave pet food outside or use automatic pet feeders.
- Take down, clean and put away all bird feeders.
- Clean your grills after each use and store them in a secure building.
- Do not put meat, fruit or vegetables in your compost piles.
- Remove, clean and properly dispose of any fruit from fruit-bearing trees.
- Bears are highly intelligent animals that have a keen sense of smell. Odors from your home can attract bears. Keep all low-level windows and doors closed securely, and lock all lever-handled doors and sliding doors.
- Routt County Communications
Steamboat Springs — Living in the high country comes with certain inevitabilities. It will snow incredible amounts, the views will be breathtaking, and bears will break into trash cans near homes and businesses.
Steamboat Springs is no exception.
This year, however, the number of bears reported in the city between January and the end of July is about half of last year's rate.
According to Sharon Clever, supervisor and 911 coordinator for Routt County Communications, 123 bear-related calls were taken from the beginning of 2008 to the end of July, compared to 244 calls during the same period in 2007.
The reason for that, according to state Division of Wildlife officials, is that natural food sources are exceptionally good this year, keeping bears out of town and reducing the need for scavenging in urban areas.
The bears go through three food stages, said Randy Hampton, public information officer for the Colorado Division of Wildlife in the northwest region.
The first stage is grasses and flowers, which is just ending. The second stage is berries, followed by acorns.
But as the berries begin to ripen, residents must pay extra attention to removing food sources around town, Hampton said.
"We've got a period right now where it's really critical for people to pay attention to trash and pet food and those other attractants," he said. "Last year was the perfect storm, if you will, for bad berry years," he said. "What happened for the last few years was that we warmed up real early and the plants bloomed out, then a late frost came through.
"This is a critical time as we get into August," he continued. "The berries are just starting to ripen up, and we don't want the bears making that transition to human food sources, so this is an important time to watch barbecue grills, trash and whatever other food sources there may be."
Opportunistic eaters
Danielle Donson, district wildlife manager with the Division of Wildlife, said the rest of the year should see lower bear sightings, as long as the bears don't learn to eat human food during this transitional time.
"We really don't want bears making the switch while this berry crop is waiting to ripen up," she said. "Our berry crops are very promising," as are the acorns the bears will eat after the berries are gone.
Bears tend to be opportunistic eaters, Hampton said, which means they will take the easiest food source available.
"Once they're coming back (to food sources in town), they're learning. It doesn't make any difference how much food Mother Nature is providing, because they're not leaving town."
Donson said her office set 10 traps last year for bears, but this year, they have set only two.
Hampton agreed, but said residents still should be careful about their trash and other attractants - particularly trash cans, open bird feeders, pet food and fruit trees.
"People who have fruit trees, those trees are a major attractant. People need to pick fruit as soon as it's ripe and pick up fruit that falls to the ground," he said. "But for the most part, the biggest challenges we're seeing in Steamboat Springs are the Dumpsters that are overfilled or not closed."
Other animal complaints in town have been lower this year, as well, the wildlife managers said. There have been several reports of foxes, but otherwise "everyone is where they should be," Hampton said.
- To reach Zach Fridell, call 871-4208
or e-mail zfridell@steamboatpilot.com