Past Event
Friday, August 1, 2008, 5 p.m. to 8 p.m.
Artists' Gallery of Steamboat, 1009 Lincoln Ave, Steamboat Springs
All ages / Free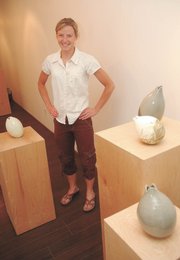 Steamboat Springs — Despite producing work that is deliberate and confident, local artists and collaborators Julie Anderson and Nancy Jeffrey take an unexpectedly timid approach to sharing it.
Noticing that Jeffrey has named most of her pieces in a show opening today at K. Saari Gallery, Anderson cradles an egg-shaped ceramic and admits to being apprehensive in giving her art too much planning before it's done.
"I'm notorious for not naming my pieces. Of course, they end up with names eventually, but a lot of these things don't survive the kiln firing. So I try not to get too attached to them," Anderson said before launching into an explanation of her use of off-balance shapes in her work.
The new show opens with a reception from 5 to 8 p.m. today as part of First Friday ArtWalk.
The show, named "Confluence" for the two artists' shared liking of hard angles and architectural forms, features Anderson's nonfunctional ceramics and Jeffrey's minimal paintings, as well as a piece that combines the two. The women claim one another as "emotional support" for the process of assembling the show as well as motivation to create during their six or so years of working together.
"Nancy's seen me cry a number of times. I'll spend sometimes an entire week working on a piece, and it comes out of the kiln ruined," Anderson said, admitting that only one piece in the show came out exactly the way she wanted.
"It's kind of this masochistic thing. But hopefully it makes me a better person in the end - I hope," she said of the sometimes devastating art of ceramics.
Jeffrey is an interior designer, and Anderson does custom architectural pieces. They work together as often as possible, and that relationship comes through in their artistic similarities.
Where Anderson is adamant that not all ceramists are potters - that "things go wrong all the time, and it's definitely a fine art" - Jeffrey is intent on giving her work perspective, emphasizing natural shapes by surrounding them with vast amounts of white space.
"I feel like we're really close, we're always on the same page, and we have a really similar approach," Jeffrey said of her work and Anderson's, pointing out that their color palettes always end up the same, even though they never plan for it.
"Confluence" will be up through the end of the month.
Show at the Artists' Gallery
Throughout August at the Artists' Gallery of Steamboat, gallery-goers will have a chance to see a painting go from blank canvas to finished piece as R.C. Dieckhoff works on a rodeo image in the gallery's front room.
"Rodeo being a significant part of our community, and it being iconic in value : that fits in with my work, because I try to paint iconic pictures," Dieckhoff said, standing in front of a blank, still-wrapped canvas that eventually will show a cowboy roping a steer.
For the gallery's rodeo-themed show, photographer Judy Jones broke her habit of taking pictures of animals to take pictures of the ranching lifestyle. The shift, she said, wasn't a difficult one.
"When I'm photographing, say, a mountain lion, it's truly only a glimpse. With cowboys and horses, they say, 'We're going out to pasture,' and you go out to pasture," Jones said.
The show also features ceramics by Barb Gregoire, who said she tried to incorporate an image of grit in the rodeo lifestyle with her idea that, "at the same time, it seems like rodeo people have a finesse to them, and a sense of elegance."
Artists' Gallery will offer live cowboy music and Western-themed appetizers during its First Friday reception for the show, "Artists' Rodeo."