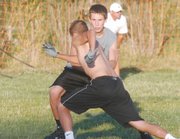 Steamboat Springs — Nelson Brassell never has played a down of organized football in his life.
But as the Steamboat Springs athlete enters his final year of high school, he figured he'd give football a try.
While most new players would be behind the curve, Brassell quickly is learning and is expected to be a large part of the Sailors offense come autumn.
Brassell credits the team camps he attended, but he said the 7-on-7 sessions that Steamboat Springs High School has done this summer might have made the biggest difference.
"For me, it's really important because I've never played before," Brassell said. "It's as many reps as I can get before (the) season. It's knowing the routes and where to run your routes. : If I wasn't doing this, there's no way I'd be where I am."
After having three 7-on-7 sessions with Hayden High School throughout the summer, Steamboat played Class 5A ThunderRidge on Thursday night at Colorado Mountain College.
ThunderRidge, who moves to Class 5A this year after a dominant run that produced Class 4A state championships in 2004 and 2005, comes up to Steamboat each year to do a team building camp.
While 7-on-7 play is almost a completely different game than actual football - every play is a pass and there's no down lineman - the benefits certainly are visible.
After all, it's still football.
"It's almost a different game than real football," Steamboat defensive coordinator Lonn Clementson said. "But we got people thinking, people reading and people learning. That's the biggest thing here, (that) we have people learning."
With the sessions throughout summer being optional, Clementson said he's been able to see an abundance of different players and learn a little about not only this upcoming season's potential starters, but also about the younger players.
"You get a different set of kids, and you get to teach and learn about people," he said. "You can tell who is really into it. Plus, it gives you a look going into conditioning camp and into two-a-days."
With Steamboat holding a conditioning camp starting Monday and actual practice starting Aug. 11, the reps in 7-on-7 are a solid foundation on which to build.
"It gives us a good look at what we have and good practice at running routes," said Steamboat rising senior Eric Bonner. "I think it's real important playing against some other people. You get different looks at other offenses and defenses."
Steamboat will have a scrimmage at 6 p.m. Aug. 22 against Grand Junction at Gardner Field. The team opens the regular season Aug. 29 at Laramie, Wyo.