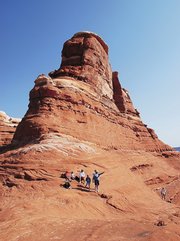 Tom Ross
Tom Ross' column appears in Steamboat Today. Contact him at 970-871-4205 or tross@SteamboatToday.com.
Find more columns by Tom here.
The silence in Canyonlands National Park during the weekend was so complete at times that all I could discern was a faint ringing in my ears. And it was the busy season in the park about 40 miles south of Moab, Utah.
A raven flew over our campsite in Needles Outpost, and we distinctly could hear its wing beats. When a hummingbird visited a flowering shrub in the next campsite, it sounded like a distant chainsaw.
That's one of the many qualities I enjoy about the Four Corners region, where it's easy to hike to a remote canyon and make the world go away, if only for a long weekend.
In some ways, it's misleading for me to give you the impression that you can go to Canyonlands and make the world go away. That's because the world definitely is coming to the Needles District. Young adults from Poland, the Czech Republic, Belgium, France, Germany and the Netherlands are exploring the region. We ran into all of them on our hikes and in the National Park's visitors' center.
Canyonlands is for reasonably rugged hikers, or at least people with rugged bicycles or very rugged four-wheel-drive vehicles. Unlike Arches National Park, just outside Moab, you must be willing to hike at least 5 or 6 miles to see the most scenic canyons and rock formations. There are four-wheel-drive roads in the park that are downright scary to contemplate.
Hiking trails are separated well from the motorized trails - it's not that difficult to accomplish when you have 337,598 acres to work with.
We started out Thursday with a 6.5-mile out-and-back hike across Elephant Canyon to the entrance to Chesler Park, where backpackers with backcountry permits can spend the night amid the dramatic sandstone spires that give The Needles District its name.
Elephant Canyon is named for the gray shale that forms the floor of the seasonal wash. It resembles elephant hide, but in places, it also is streaked with the red chert that ancient Puebloan people used to make their hunting and scraping tools.
The Puebloans, who formerly were referred to as the Anasazi, have left behind small stone granaries and potsherds that provide clues to their existence.
However, three years ago, visitors to a remote area of the park found a small bag made of animal hide that provided new information. According to an article by Chris Goetze in the park's newsletter, the 2,000-year-old pouch was made of antelope hide. It was divided into two compartments, one containing a store of seeds probably relied on for emergency rations. The second compartment contained pieces of chert, a rounded piece of river cobble used as a striking tool and a piece of antler used as the impact point for shaping the chert. Goetze speculated the pouch had been stashed by a hunter who wanted to be able to make fresh projectile points in a pinch.
Gazing at a photograph of the beautifully made pouch, my thoughts were cast back 20 years to an April backpacking trip I made in Grand Gulch Primitive Area about 50 miles south of Canyonlands. During that hike, we found tiny desiccated corncobs scattered around stone ruins. They were the actual corn cobs harvested by the Puebloans more than 1,000 years earlier. Holding them in my hand, I felt a spooky connection to the "little people" and their lives in the canyons.
We hiked nearly 20 miles during the weekend, and I spent part of the time looking for a similar connection.
All I spied were dusty lizards, tiny wildflowers and stunning sandstone amphitheaters devoid of other hikers.
I'm thinking of returning in October, when the golden light on the Colorado Plateau is at its best.