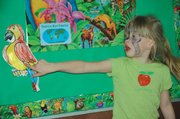 Yampa — A blue river wound across the floor, a green forest canopy covered the ceiling and animals including a snake and a monkey relaxed on children's desks.
"Our classroom is a rain forest now," said first-grade teacher Richel Eskridge on Thursday at South Routt Elementary School in Yampa.
She was right, with one exception - Eskridge's classroom may have been louder than most rain forests. In addition to bird calls and thematic animal noises played from a speaker, the classroom was filled with first-graders leading groups of older students on "jungle tours" through the colorful decorations.
Taylor Kirby, 6, said her new favorite animal is the capuchin monkey, a pint-sized species that can be found in much of Central and South America.
"We did a report on it," Taylor said of the capuchin. "It's small and it eats lots and lots of fruit and it lives in the canopy."
First-grader Kyla Granstaff led one group of students after another along the paper river, past the stuffed animals and through the hanging branches to various displays about macaws and other animals. Kyla, a knowledgeable tour guide, offered facts and commentary about each animal she pointed out.
"They eat bananas, they're territorial and they can drink out of the river," Kyla said of macaws.
Eskridge praised Kyla's outgoing nature - and her knowledge of nature.
"She knows her stuff," Eskridge said.
Thursday's event, part of three weeks spent studying the rain forest, also included face painting and a bake sale, meaning many of the students had snacks to fuel their energetic jungle tours.
"This is too much excitement for first grade," Eskridge said with a smile.
But the event also had a serious side. Eskridge said proceeds from the bake sale would help purchase rain forest acreage for preservation - a desire the students reached after learning about deforestation, she said. One side of the classroom Thursday was undecorated and bare, except for knocked-over chairs strewn about the floor to symbolize fallen trees.
The students kept journals during the rain forest unit to record thoughts and artwork as they learned. And in decorating their classroom, the students inadvertently got a first-hand feel for not just loud noises, but also another real-life aspect of tropical climates.
"It is hot in here," Eskridge acknowledged, fanning herself with her hand as students rushed by. "But it's the rain forest."
- To reach Mike Lawrence, call 871-4233
or e-mail mlawrence@steamboatpilot.com