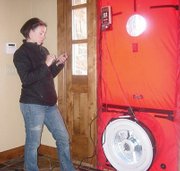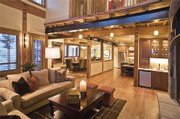 Steamboat Springs — Some of the most affluent travelers in the world have begun staying in one of the most energy-efficient vacation homes in the Rockies during visits to Steamboat Springs.
A multimillion-dollar duplex completed by Mike Roberts of Habitat Construction this year just blew the doors off the blower door test.
"It's one of the tightest stick-built homes we've ever seen, if not the tightest," Megan Gilman said.
Gilman is president of Active Energies, a consulting firm in Avon that works with builders, architects and homeowners on green building. She conducted a blower door test on the Habitat Construction-built home on Ski Trail Lane on Feb. 22 to determine if it was leaking precious energy. She found it didn't leak much at all.
Homes that leak to an extent that they turn over their air volume less than 0.35 times an hour are considered to be very tight, Gilman said. The Habitat duplex scored a 0.16.
"I was really impressed," Gilman said. "Mike used closed-cell foam insulation throughout the house. It makes it tight."
Both halves of the duplex sold last winter for $4 million each. The buyer was Quintess, Leading Residences of the World. It is an ultra-high-end vacation ownership club that maintains a network of 70 homes around the globe on behalf of its members. For a one-time, refundable deposit that starts at $210,000 plus annual dues, members gain access to vacation homes with an average value of $4 million.
Former longtime Steamboat resident Ben Hambleton is a partner in Quintessa, Roberts said. He worked with Pam Vanatta of Prudential Steamboat Realty. The ski-in, ski-out duplex, located almost directly beneath the Steamboat gondola, was listed by Arlene Zopf of Steamboat Village Brokers.
Roberts credited architects Tim Stone and Keith Kelly of Kelly & Stone Architects in Steamboat with becoming full partners in the green systems of the luxury duplex.
The driveway for the duplex alone cost $300,000 to build. However, a mechanized ventilation system that pulls heat out of the air and returns it to the home added just about $6,000 to the cost of each half of the duplex.
Habitat has been an advocate for green building here for decades - since before the term became a buzzword. Roberts has become a strong advocate of third-party testing to verify the green qualities of a home.
"You never know what you've got in a house until you test," Roberts said. "Even the most well-intentioned builder is going to overlook something. And with 20 different subcontractors, there will be leaks you can't see when you walk through the house."
Roberts said he set out to make the Ski Trail Lane duplex virtually airtight. A mechanical ventilation system with a heat exchanger was a critical part of the plan. It allows the home to breathe without sacrificing energy.
Gilman said even a tight house needs to be properly ventilated for soil gases, humidity and carbon monoxide.
"Mike has just about better mechanical systems in that house than I've ever seen," Gilman said. "He has timers on every ventilation fan so they don't run too long."
Her company worked on the 2008 Mountain Living Dream Home in the exclusive Cordillera neighborhood near Beaver Creek.
Ideally Active Energies likes to begin working with homeowners, architects and contractors at the planning stage so they can maximize the green building potential of the home. They run computer models to help clients understand, for example, how long it will take various types of insulation to reach the break-even point and achieve a return on investment.
Roberts thinks Steamboat has lagged behind some mountain communities in terms of setting green standards, but he is encouraged that the community's Green Team is starting to catch up.
"Ultimately, the market is going to dictate" green practices, Roberts said. "I predict that within five years, a certified green home will appreciate at a greater rate."
Third-party testing provides him with a verifiable certificate confirming the homes he builds have those advantages.
Roberts is forthright about the green-ness of the large luxury homes his company builds here. A large vacation home consumes more natural resources than more modest homes.
"I've not been true to a lot of those principles myself," he said. "If you're talking green, you have to talk about building small before you talk about anything else."