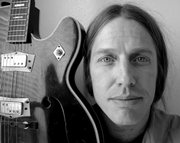 Past Event
Sunday, September 2, 2007, 3 p.m.
Brent Romick Rodeo Arena, 501 Howelsen Parkway, Steamboat Springs
Not available / $15 - $33
A regular shoulder season fixture at Old Town Pub, songwriter Danny Shafer knows how to relate to the average person.
The mountain-man addition to a line of regular-guy troubadours that has included Bruce Springsteen and Townes Van Zandt, Shafer plays Steamboat Springs every so often solo, and frequently with his band, Unknown Americans.
While many of Shafer's songs have a distinct political slant - and while that slant might come through a little stronger in an election year - he's much more likely to turn a venue into a folksy saloon than a political rally, with music that takes the gems of Americana and sets them to acoustic guitar.
On Saturday, Unknown Americans play at Old Town Pub, and Shafer comes back around for a solo set at the bar May 7. Like his songs, Shafer's influences rotate around big ideas rather than specific events. And like his music, those ideas are universal in their appeal.
About the band
Danny Shafer's influences, compiled by thematic elements:
1. Guitars, specifically Silvertone and Gibson - Sometimes a cheap guitar's sound can be just as needed as a so-called "nicer" guitar. I never met a guitar I didn't like.
2. Authors: John Steinbeck and Richard Brautigan - Nobody lets us get to know a character like Steinbeck, and Brautigan writes about serious subjects with a sense of humor. It's said that nobody likes a smart aleck, but I do.
3. Weather conditions: Really hot or snowing - It's either siestas and iced tea, or no-team snowball fights where it's everybody against everybody.
4. Pickup baseball games - The spirit of the game is pure. Pro sports have screwed everything up. It must be a sign of how things are going when we have made our national sport a way to sell fast food.
5. Fast food - Come on. Doesn't unhealthy, bad-tasting food make you want to go home and make a dinner cooked with love and care?
6. Songwriters: Townes Van Zandt and Willie Nelson - The songs say it all.
7. People - We can be so perfect and so terrible. We are always full of surprises, and I believe we are mostly good.
8. Uncle Tom Shafer - He showed me how to tune my first guitar and taught me the song "Life Is Like a Mountain Railroad." He is the reason I know at least one gentle soul.
9. Economic crises - I have known people without money my whole life. Is that what they mean? Maybe politicians are just worried about the big picture because they are in it.
10. Playing music and creating a good Saturday night - Let's blow some pressure together. No matter what you do or who you are, don't you need to go out dancing?