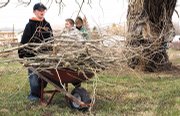 Hayden — The sixth-graders scurried around the massive trees in Hayden Town Park on Thursday, raking up limbs and loading armful after armful into the bed of a white pickup.
An icy wind whipped around them on the gray afternoon.
"Run around to stay warm," suggested Robin Bush, who teaches a group of the sixth-graders at Hayden Middle School. Each year, the school's sixth-graders work with the Parks & Recreation Department on a project for Arbor Day, which is today.
"You can sit in a classroom and preach and preach and preach about taking care of the environment," Bush said. "With this, they get out and are actually invested in it."
Three years ago, her class helped Hayden earn a Tree City USA designation.
This year, 30 children helped clear out limbs that had been cut off trees. Last year's sixth-graders helped plant trees at Dry Creek Park. Cleaning up bits of trees might not be as exciting as planting a fresh sapling, but the participants embraced the project, parks department Director Kathy Hockett said.
And tree maintenance is crucial, she said.
"It's not only planting them but taking care of them," Hockett said. "If you don't trim them and clean up, if you don't care for them, they're not going to grow right."
She also said the project helped the children invest and take pride in their local parks.
The activity was part of a broader Earth Day discussion. The children have been getting lessons about the environment at school.
"We talked about Earth Day being sometimes overwhelming to kids," Bush said. "They hear about global warming : we talk about where do I begin. I try to do one thing for myself, one or two things. And I try to get the class to do one thing. I say if we all do one thing, that's enough."
Many of the children are doing more than one thing, however. The sixth-graders are collecting old cell phones for a project run in part by Apple. The students will collect phones for a week and then send them in (postage paid) for recycling.
In exchange for each phone, Apple and worldforest.org will have a tree planted.
The students were eager to explain the problems with global climate change.
It's "ruining our Earth," Heather Nereson said.
"And our ozone," Morgan Howe added.
But they aren't standing idly by, the girls promised.
"We recycle, and we don't use the air conditioner or heat as much," Morgan said.
"We carpool and plant a lot of trees," Heather said.
After the explanation, the girls got back to raking. Everyone was keeping busy, parks Superintendent Dave Bantam said.
"I hope the kids put a little bit into the park," he said, "and take a little bit of it with them."
- To reach Blythe Terrell, call 871-4234
or e-mail bterrell@steamboatpilot.com