Fear of litigation influences voting machine decision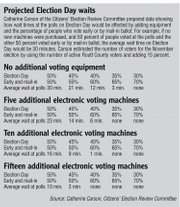 Steamboat Springs — The specter of lawsuits aimed at eliminating the use of electronic voting machines is discouraging the purchase of additional machines in Routt County.
At a meeting with the Routt County Board of Commissioners on Monday, Clerk and Recorder Kay Weinland was directed to return next week with a request to purchase five machines and an additional optical scanner to count paper ballots. The county previously budgeted for the purchase of 15 voting machines in 2008 and did not plan to buy a second scanner. The five voting machines will cost about $15,000. The scanner will cost about $20,000.
"I try to be a conservative, but it's hard when you're trying to avert disaster," Weinland said. "There's nothing worse than an Election Day disaster."
Weinland said a "beefier" scanner is needed so the county has a backup and to handle an increasing number of mail-in ballots. When the county's current scanner was purchased, Weinland said, the county was experiencing an average of about 300 mail-in ballots a year. Now, Weinland said, that number is in the 3,000 to 5,000 range. Also, because the county is scaling back its original plan to purchase 15 voting machines, there will be a heavier reliance on paper polling booths this year.
"There are people who will want to vote electronic that won't be able to," said Catherine Carson, a member of a Citizens' Election Committee.
Other election officials and the committee joined Weinland at her meeting with the commissioners Monday. The election committee was formed to improve county elections after frustrated voters waited hours to cast ballots in 2006. Carson said lawsuits aimed at electronic voting machines are a certainty. One such lawsuit led to Secretary of State Mike Coffman's court-ordered recertification of electronic voting equipment last year. Coffman decertified several machines used statewide before recertifying the equipment earlier this year, with conditions.
"Under normal circumstances I would recommend buying the machines, but there's a caveat," Carson said. "What we're saying is it's precarious to pay 50 grand for machines when they could be modified or discredited."
County Commissioner Doug Monger expressed an unwillingness to spend money on additional machines before eventually agreeing to the five-machine compromise.
"I'd rather invest my money in paper, knowing it's going to work," Monger said. "There's a witch hunt out there, and I don't want to be a part of it."
The commissioners reviewed data prepared by Carson showing how wait times at the polls on Election Day would be affected by adding equipment and the percentage of people who vote early or by mail-in ballot.
"It's absolutely clear what's crucial, and that's getting people to vote early and mail-in," Commissioner Diane Mitsch Bush said.
Early and mail-in voting increased from 50 percent in 2006 to 65 percent in 2007. At that level in 2008, and with five additional machines, the longest projected wait in Routt County would be 30 minutes at the Moon Hill School polling location.
- To reach Brandon Gee, call 871-4210
or e-mail bgee@steamboatpilot.com