Room to grow?
SmartWool President Mark Bryden said his company's sales are on pace to grow by more than 20 percent again in 2008. And the company expects to grow from the current 63 employees to 77 by the end of the year.
Does SmartWool have enough room to grow in its headquarters at the former airport terminal owned by the city of Steamboat Springs?
"We think we have this year and two more before we get squeezed," Bryden said.
He said his company would contact the city and discuss what course of action makes sense for the company to grow its physical plant. Options include expanding the building and adding a second mezzanine on the south end. It would be less desirable, Bryden said, but the company could move the human resources and finance departments to another site.
Whatever solution the company pursues, it won't involve leaving Steamboat, he added.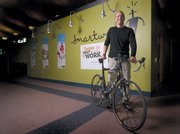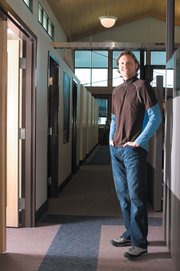 Steamboat Springs — They've been called SmartWoolians and they've been called Smarties. But they've yet to be called Woolies.
Whatever you call them, the 63 employees of outdoor clothing specialist SmartWool seem to be satisfied in their careers.
There's a reason why SmartWool, based in Steamboat Springs, made the list of Outside magazine's "Best Places to Work" this month.
SmartWool is famous for its Merino wool socks, sweaters and high-performance base layers, among other garments. Now, it's gaining notoriety for its working environment.
"From the top down, from company President Mark Bryden, to my boss and other managers, if you show up at SmartWool on a powder morning, the question is 'Why are you not skiing this morning?'" Garett Mariano said.
Mariano, a four-year veteran at SmartWool, is the company's creative marketing manager. He also serves on his company's SmartChange Team.
"It's an employee-driven team," Mariano said. "We have a direct line to the president."
The SmartChange Team recommended an employee recognition program, the Pinnacle Award. It rewards both individuals and teams of employees who are nominated by their colleagues for the award. They receive a special hand-blown glass trophy made in Sweden, a cash bonus and an invitation with their significant others for dinner with Bryden. Individual award winners also receive a two-day vacation at a Vail Resorts property. Team winners share a whitewater rafting trip or Steamboat Powdercats outing.
SmartWool Director of Apparel Kelly Gorder is a recent hire. She moved to Steamboat from Park City, Utah, where she lived while working for the Sundance Catalog Company in Salt Lake City. Before that, she worked for REI in Seattle.
Her office in Salt Lake was in a business park next to the airport, Gorder said.
"I missed working in the outdoor product industry," she said. "There's a certain kind of person you get to work with at a company like SmartWool. And
SmartWool is world class."
Add to that the fact that it's inspiring to live in a location where you can use your products on a day-to-day basis. That was a factor in coming to Steamboat, where she can't afford the same kind of housing she could even in a mountain resort like Park City.
"It's hard," she said. "I'm at a point in my life where I want to own a house. But there's an intrinsic value in working in a place like this. I had to ask myself, 'Where will I be able to live the richest life overall?'"
Empowered flexibility
Gorder said instead of hanging around the house, she anticipates going skiing or for a trail run after work. And she likes having the opportunity to become part of a place she is proud to call home.
"It's the right choice right now," she said.
The powder clause at SmartWool isn't the primary reason the company was named to Outside's first "Best Places to Work" list. And Mariano hastened to say that people at his company don't hit the slopes every time it snows. It just isn't possible in some departments.
"I don't want to leave the impression that it's a free-for-all," he said.
But company spokeswoman Molly Cuffe confirmed that from the top down, the message at SmartWool is that employees have the flexibility in their working lives needed to live the Rocky Mountain lifestyle.
"It's a performance-driven environment," Cuffe said. "But as long as you're performing, you're allowed the flexibility to have a work/life balance."
Bryden said it didn't take a leap of faith for his team to give their employees that flexibility.
"If management and leadership do their jobs well, if you hand the reins over with clarity of direction and expectation and if you have smart, bright people who are empowered, they'll deliver great results," Bryden said.
A sustainable future
SmartWool Vice President of Sales Mark Satkiewicz said the expression "SmartWool feels good" is more than a brand statement implying the company's garments feel good against your skin.
"It means a lot of things," Satkiewicz said. "It includes how our employees feel about working here. It includes what our products do to people and how they impact the environment."
In recognition of that last remark, the leadership team set out last year to establish SmartWool as a company that takes action on sustainability.
The two halves of the company, production and operations, set out to walk the walk. Satkiewicz and Creative Director Carol Davidson are taking responsibility for the operations half of the equation and have worked closely with consultant Lyn Halliday, president of Environmental Solutions Unlimited, and Steamboat Springs Chamber Resort Association Executive Vice President Sandy Evans Hall to further sustainability programs.
"The outdoors is the core of our business," Satkiewicz said. "If we're not responsible to the outdoors, we're not being responsible to the longevity of our business."
SmartWool has committed to purchasing energy credits through Native Energy to support Colorado wind farms - enough credits to offset 1.3 million miles of airline travel annually, 296,000 miles of automobile commuting logged by SmartWool employees and the electricity and natural gas consumed by SmartWool's offices in Steamboat and Boulder.
But those aren't the most significant components of the sustainability program, Satkiewicz said.
The top goals are reduction of energy consumption, reuse of natural resources, education and affecting subtle changes in employee behavior, he said.
Toward that end, SmartWool has launched a commuting program that provides incentives for employees to take alternative forms of transportation. That can include carpooling and bicycling. One employee actually is planning to run to work. The goal is to reduce the impacts of driving to work by 20 percent this year.
Satkiewicz will even buy coffee and bagels for employees who meet him on their bikes at 7:30 a.m.
Ah, those SmartWool perks.
Employees will be encouraged to take Friday afternoons off this summer.
"I've promised to get better at that myself," Satkiewicz said.
- To reach Tom Ross, call 871-4205
or e-mail tross@steamboatpilot.com