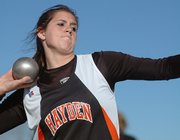 Rifle — It's smooth, Hayden High School junior Holli Salazar explained.
That's how she can tell the good throws from the bad throws. That's how she can tell which shot puts are going to drop her in the thick of the competition every week and which are going to soar far beyond everyone else's marks.
The throws that make her one of the state's best are the smooth ones, she said.
"It just feels a lot smoother. You can feel it," Salazar said. "The other ones aren't smooth at all."
Salazar was as smooth as it gets Friday at her most recent domination, a track meet in Rifle where she made a stage for the best performance of her career. She threw the shot four times. Every attempt was good enough to win comfortably - her worst was two feet better than anyone else's best. But her last throw lifted Hayden's multi-sport star to a new level.
Even with only one throw remaining, Salazar warmed up as if she was preparing for a sprint event. She stretched in the grass, pulling on her quads and loosening her arms. She wasted little time when preparing to throw, walking quickly to the shot circle, carefully but swiftly measuring off her steps, and then unleashing a twisting tornado-esque toss. The final throw flew 37 feet, 4 1/4 inches, setting a new school record and putting Salazar in prime position for the state tournament.
"Getting the record was one of my goals for the season," she said. "I came close in my first meet this season. I threw 36-5, which was just 2 inches short. When I got it, I was happy about it."
So it feels different when she lets loose a good throw, but what was really the difference?
"Maybe it was the stress," Salazar said.
If so, that's great news for the Tigers. The competition already in hand, Salazar qualified for state with her third toss, just slipping past the necessary mark of 35-2. Her fourth throw, the monster, came with the worries of state already cleared from her mind.
Now, she has three more meets to compete unencumbered, first Friday at Moffat County, then the following week in West Grand, and finally a week later at regionals.
There's plenty left to accomplish, too, said Salazar, who also has set 40 feet as a goal for the season.
It's all possible, Hayden coach Barbara Manzanare said. The key now is maintaining focus and steady progress.
"When she got to state the last two times, she just wasn't throwing nearly as well as she had been all year," Manzanares said. "The goal for her is remaining consistent and adding a little bit of distance every time and not get into a slump."
She's on the right course. Salazar steadily has increased her distances through her entire high school career, despite never focusing solely on track. She credits some of her success this season to an in-school weightlifting class, but she also spends her offseasons living the life of a four-sport athlete, playing softball, volleyball and basketball.
She said she has her eye on a state medal. It's a realistic dream.
Salazar finished 13th in both of her trips to state, throwing 32-10 1/4 as a freshman, then 34-1 1/4 as a sophomore. Her 37-4 1/4 throw from the Rifle meet would have earned her third two years ago at the state meet and fifth last year.
She'll have plenty of competition. The top five finishers at state from last year all return. In that group are two former state champions and at least four throwers who have logged throws better than Salazar's personal best.
Still, a 40-footer would have won last year's competition.
"Now, I'll just try and push my personal best," she said.
And if she realizes all her dreams and goals and breaks the 40-foot barrier at state?
"I'll just have to throw further next year," she said.