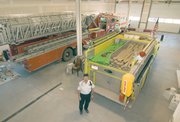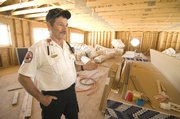 Stagecoach — As Stagecoach continues to grow, so has its demand for emergency services.
With one-third of fire and ambulance calls in the Oak Creek Fire Protection District now originating in the area, the Stagecoach fire station is nearing completion.
Just less than half of the Oak Creek Fire Protection District's fleet is now based in Stagecoach, where six volunteer firefighters and one emergency medical technician are based. Beginning the first weekend in May, three Stagecoach firefighters will be on call for the fire district's busy season, in addition to five based in Oak Creek.
In recent years, the Oak Creek Fire Protection District has averaged 180 calls for service in its 265-square-mile jurisdiction. The fire district is on track for a nearly 50 percent increase, responding to 80 calls so far in 2008, Oak Creek Fire Protection District Chief Chuck Wisecup said.
Much of that increase comes from Stagecoach, Wisecup said.
"We're about as many homes out here now as we are in Oak Creek," he said, adding that in the past four years, the Oak Creek Fire Protection District has signed off on plans for 240 new homes in Stagecoach.
Only a few years ago, the Oak Creek Fire Protection District averaged 12 to 15 calls for service in Stagecoach each year. Last year, the district's firefighters and ambulance crews responded to 12 calls in July alone, half of them at the Stagecoach Reservoir.
"And it's not going to slow down," Wisecup said.
To better serve the Stagecoach area, the Oak Creek Fire Protection District took delivery of a new fast-attack truck two weeks ago. The $155,000 vehicle carries minimal medical, rescue and wild land fire equipment, as well as a 300-gallon water tank, allowing Stagecoach firefighters and EMTs to handle a scene as first-responders while they wait for backup personnel and equipment to arrive from Oak Creek, Wisecup said.
"The primary reason we got this is because we expected a real mild winter, and then a real bad wildlife season," Wisecup said.
The new truck's smaller size makes for faster response times compared to some of the older and larger equipment based in Stagecoach.
"The engine that we have in there, it would take you 20 minutes just to get up to mile marker six on County Road 16. It's so darn slow," Wisecup said. "This'll get you there a lot faster."
Around town, some people have been saying that the new fire station has helped them get their insurance rates down, Stagecoach resident Tony Borean said.
Most insurance policies require homeowners to live within five driving miles of a fire station and within 1,000 feet of a fire hydrant to qualify for lower rates.
Some of the closest homeowners to the station were able to decrease their insurance rates to half or even one-third of their previous levels, Wisecup said.
The 6,400-square-foot fire station, which broke ground in 2006, has relied heavily on volunteer labor and discounted goods and services. The total cost for construction thus far is only about $400,000, although keeping the cost down has contributed to the project's slow development, Wisecup said.
"We're about half the cost of what we would be if we bid it out," Wisecup said. "We've been able to do a lot more than we expected."
While the station has been fully operational from an emergency services point of view since January 2007, much of the finishing work at the station remains to be completed.
The upstairs living quarters at the station still are just studs and framing, with the uninstalled showers collecting dust in the center of the station's future kitchen. Wisecup hopes to have the upstairs completed this summer so residential staff can work out of the station in the fall.
Since the Stagecoach fire station's bays already are full, a third bay likely will be added once the construction already under way is complete, Wisecup said. Training and meeting rooms will be the next phase within about the next two years, he said.