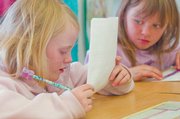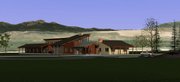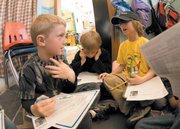 North Routt — North Routt educators are undertaking an ambitious process to fund and construct a new school in Clark.
Colleen Poole, head of school at North Routt Community Charter School, said the current facility is too small to handle a growing community and rising enrollment. The proposed new building - the first phase of planned construction - would be a structure of about 12,000 square feet including six classrooms, a large gathering area and administrative offices. The building would have the capacity for 90 students and cost about $2.1 million, Poole said.
"We will sell the site we are currently on, and that will provide some base funding for us," she said, adding that the charter school's board plans to apply for grants and seek public donations, but ultimately, will likely need a loan. She said charging tuition is not a possibility.
"Never. It's a public school, so we will never charge anything for students to come here," Poole said. The charter school subsists primarily on per-pupil state funding funneled through the Steamboat Springs School District.
Fifty-six students in kindergarten through eighth grade are currently enrolled at the charter school, which has a waiting list of 19 students, 10 of which will be kindergarteners. That enrollment is a jump from 2004, when Poole took over a fledgling school that educated less than 30 children.
"North Routt is growing," Poole said last week. "I think a lot of young families are moving out in this direction. I think now that there is a very good option : some of them are choosing to attend (school) out here."
The new school building would be located adjacent to the North Routt Preschool, which opened its doors in 2007 on a 5-acre site between North Routt Fire Station Number One and the Glen Eden Resort, just west of Routt County Road 129. The current charter school is less than a quarter-mile from the building site.
Poole said land for the new charter school was donated by the same landowner who donated the preschool site. The Routt County Planning Commission is scheduled to review plans for the new charter school May 1.
Small spaces
The current charter school, which includes a renovated home, another small building and a yurt, is filled to capacity.
So is Katrina Wellman-Machut's first- and second-grade class.
"At this point, I couldn't put another student in here if I wanted to, just because of the space," she said of her classroom, which was filled with coats and desks and artwork Friday - when some students already were gone for this week's spring break.
Wellman-Machut teaches 15 children.
"When they're all in here and sitting, it gets really hard to work through," she said, citing rows of chairs that back into each other.
Friday morning, a group of six first-graders read out loud to each other about rain forests, while sitting in a kindergarten coat closet. Using the closet was necessary to separate the group's noise from another group of students reading in the classroom, where the children also eat their meals.
"They do everything in here," Wellman-Machut said. "It does present a challenge."
But it doesn't appear to hinder the children's learning. Second-grader McKinley Muhlbauer, 8, excitedly read about Madagascar as part of a unit on the different continents and animals that inhabit them. On May 23, the students will visit the Denver Zoo, where each student will make a presentation to the other students about a specific animal they researched.
"It's going to be a big thing," Wellman-Machut said of the trip.
First phase first
Poole said the charter school's special use permit from Routt County allows about 60 people - including staff - on the campus. She and the charter school's board are planning to present the Routt County Planning Commission with a proposal to raise that number to 75, to meet immediate needs while planning for the new school continues. The expansion proposal will require contract work on school infrastructure such as its septic and water systems, Poole said.
In the long term, Poole has plans for a second phase of construction that would include another six classrooms, another 90 students and a larger multi-purpose area that could accommodate a kitchen for hot lunches.
For now, Poole is focusing on the first phase.
"If everything goes extremely smoothly, we hope that we can break ground in the fall. :We really don't want to say no to any child that wants to come here from North Routt," she said. "I'd like to see the kids in North Routt have the same opportunities as the other kids in Routt County."
- To reach Mike Lawrence, call 871-4233
or e-mail mlawrence@steamboatpilot.com