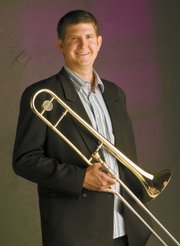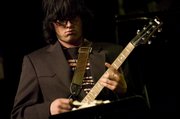 A quick lesson with Darren Kramer:
Q: Why do you guys do these high school clinics?
A: We do it because you have to invest in the younger generation. Jazz is already one of the most unpopular musical styles - in general, but definitely for the younger group. We like to kind of give back to the community by inspiring the younger group.
Q: What would you say to a kid who tells you that jazz is not cool?
A: How much has he listened to jazz? What recordings has he heard? Has he seen live music?
It's a little harder for kids in a rural town, but one of the best bands in the world - really one of the best, Maria Schneider's band - just played in Denver last week. It's worth it to go check it out. If more people got to have that, I think they'd be more turned on to jazz.
Audio clip
Jazz- In the Midnight Hour
Audio clip
Jazz- Little Darlin'
Audio clip
Jazz- Bye Bye Blackbird
Audio clip
Jazz- Cantaloupe Island
While members of the Darren Kramer Organization Jazz Sextet set up for their own rehearsal after an afternoon clinic at Steamboat Springs High School on Tuesday, members of the SSHS Jazz Ensemble nervously thanked Kramer for his time.
On the tail end of a day of music that started with a two-hour elementary school coffeehouse performance and would end with a big band concert, the students worked on absorbing the stylistic tips they'd just gotten from some of Denver's top jazz musicians.
"It's more important to groove - stop looking at the music and start looking at the other players in the band," Kramer said to the band's rhythm section as they started work on "Bye Bye Blackbird," a classic swing chart from the Ray Henderson songbook.
"The swing tunes can be just as cool as the funk tune," he said, referring to the band's excitement about nailing the articulation on Herbie Hancock's "Cantaloupe Island."
With the members of his sextet spread throughout the high school band, Kramer worked out basic issues in tone and rhythm, with each Darren Kramer Organization player working in his section to make it sound better.
That meant pianist Eric Gunnison (who played with Dizzy Gillespie) preached the gospel of The Real Book; trumpeter Pete Olstad (who just got off the road with Tom Jones) showed horn players how to make notes short; drummer Dean Oldencott praised the rhythm section for tightening its playing; tenor saxophonist Serafin Sanchez fleshed out melody lines; and bassist Ian Hutchinson illustrated the disadvantages of wearing any kind of guitar below your hip.
The group sat in with the high school band for two songs on a Tuesday night concert, following up with about an hour of Kramer originals or arrangements - with the easy highlight being Oldencott's drum intro, outro and everything he did in between on a rendition of Duke Ellington's "Caravan."
Band director James Knapp said he was taken aback by the difference in his students' enthusiasm for and attention to the music in just an hour and a half of working with the sextet.
"It's exponential; they've really gotten excited. They got behind the whole concept of the concert," Knapp said of the difference in level of play between three weeks ago and the day of the concert.
"Just having the instruments played this way was awesome. It's really just unbelievable progress. Every aspect of the music has improved."