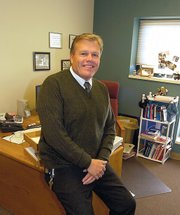 Kelly Reed's resignation letter
Presented to the South Routt School Board on April 17
Dear Board:
It is with mixed emotions I resign my position as Superintendent of Schools effective June 30, 2008.
My decision is both professional and personal. I have been presented with an exceptional opportunity to move closer to family, improve myself professionally and enhance my financial position.
I leave with no ill feelings toward anyone and deeply appreciate the support I have been shown by the board, the administrative team, the staff and the community. A part of me will always remain in South Routt.
I wish you and the district the very best in all your future endeavors. Thank you for three very meaningful years.
Sincerely,
Kelly L. Reed
Oak Creek — South Routt School District Superintendent Kelly Reed announced his resignation Thursday night. It is effective June 30.
The South Routt School Board accepted Reed's resignation after an executive session in the district offices behind Soroco High School. Reed, 56, said he has accepted a position as principal of Redlands Middle School in Grand Junction. The school is part of Mesa County Valley School District 51, which has more than 40 schools and a total enrollment of more than 21,000 students.
"I've got mixed emotions, but it's a good personal and professional move for me," Reed said Friday, adding that his wife's mother and sister live in the Grand Junction area.
Reed acknowledged his departure leaves the South Routt School Board with a short amount of time to find a new superintendent for the 2008-09 school year, but he said he could not pass up the new job with an increased salary and a much larger school district.
"The position that I'm taking was not opened until recently. I didn't even know about it until three weeks ago. I was offered the job last Friday night (April 11)," he said. "While I would have liked to give the board more time, the opportunity : is too good for me to pass on."
School Board President Tim Corrigan said the board "certainly was surprised" to hear Reed's announcement Thursday.
"But he served us with great distinction for the last three years, and we're really grateful for the time we did have him," Corrigan said.
Super turnover
Reed's departure will bring another new leader to Routt County schools.
Last month, the Hayden School Board hired Tennessee principal Greg Rockhold to replace retiring Superintendent Mike Luppes. The Steamboat Springs School Board is negotiating a contract with potential hire Dr. Shalee Cunningham of Napa, Calif., who would replace interim Superintendent Sandra Smyser.
Corrigan said the trio of new leadership could bring "a new era of cooperation" and shared resources to Routt County schools - but South Routt officials need to act fast.
"We know that we're going to be under a lot of pressure to move very quickly to begin the new superintendent search," he said.
The School Board has scheduled a work session for 4 p.m. Wednesday to begin the search process. Corrigan said he already has contacted the Northwest Colorado Board of Cooperative Educational Services to discuss consulting services for the search. BOCES assisted South Routt with its superintendent search in 2005, when Reed was hired to replace former Superintendent Steve Jones, who retired.
James Chamberlin, secondary principal of Soroco schools, was a finalist for the superintendent position in 2005. Corrigan called Reed's selection "a very difficult choice" between three outstanding finalists.
Chamberlin could not be reached Friday.
"Secure future"
Reed brought an air of refinement to the district with his customary suit and ties, which often made him the best-dressed man in rooms filled with jeans and boots.
His tenure included the passage of referendums 3A and 3B by South Routt voters in November 2007. The referendums allowed property tax increases to boost school district revenues by $360,000 annually and raise $1.57 million to help replace antiquated coal-fired boilers at district schools, respectively.
"It's very gratifying to know the voters have supported this effort and gratifying to have the funds to go forward to help the students and secure the future of the district," Reed said on election night.
Corrigan also cited the construction of the new South Routt Early Learning Center in Yampa - scheduled for completion July 1 - increased staff development time and "ongoing efforts for pursuing student achievement and curriculum alignment" as Reed's chief achievements in the past three years.
"I really want to stress the fact that Kelly's departure is all about a positive move for him," Corrigan said. "Kelly's leadership has resulted in great strides for the district."
- To reach Mike Lawrence, call 871-4233
or e-mail mlawrence@steamboatpilot.com