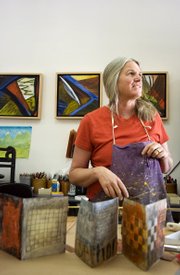 In preparation for an upcoming book art contest in Tucson, Ariz., Steamboat artist Laura Wait has been trying to hone her metalworking skills.
The goal is to figure out how to effectively and appealingly hang one of her books - which come packed with hand drawings, prints, paintings and rich imagery on every page - so that it meets the contest's wall-ready criteria.
But, speaking honestly from her two-room home studio, Wait said she also is doing this because she prefers to show her books in settings where people won't touch them.
"I don't like people handling them, because they do all this stuff," Wait said, ruffling her book a little more than intended in an effort to show how they can get damaged in open gallery setups.
"They drop them on the floor and slobber on them - and sometimes they get damaged," Wait said. The book she'll compete with fits into her latest collection, which came out of an idea to address the always-evocative topic of war. The series focuses on checkerboards and chess pieces.
"I thought chess is war," she said. So, the chess pages have the natural contrast of opposing squares on a board, characterizations of the pieces and symbols relating to them.
The patterns go along with an interest in repetitive shapes, especially ones that appear in more than one place and have more than one meaning. That interest has shown up in past projects focusing on spirals, the letter "X" and the letter "T."
Along with using encaustics in books for the first time, Wait consistently tries to reinvent herself. She spends hours drilling holes into small pieces of metal and filing them down to hang the pages of her most recent book. It's not a method she plans to use in future projects, but it is one that opens up new mediums and new methods.
"I like metal a lot, and I've worked with it a little bit. I'm not very good - my skills are kind of crude," Wait said. This hints at her process as an artist, which produces books that include text that's not really meant to be read continuously and requires hoards of individual stamps, tools and images Wait finds interesting.
"I don't plan things very well - I get bored," she said. "So, I start out with parts of something, and then I make them into a book."
This practice results in boxes of leftover pages from each series, pieces that didn't fit into the finished product or served as one of many test-runs.
"I have a lot of these," she said, filing through unattached pages and test covers. "Sometimes you need to work on something for a while to see where it's going."
Some of the boxes lining the shelves of Wait's printmaking studio might never get used - such as the one labeled "War," which contains one hardback book of talking heads and exploding night skies from the first U.S. conflict in the Persian Gulf, and a lot of back issues of Newsweek.
Wait tries to hold on to these things so she'll have something to build off of for future projects. She also occasionally keeps one book from a series, or one painting from a set. Right now, she has at least two sets of work hanging at home that fewer than 10 people have seen.
"They've been hanging out here for about three weeks," she said of a collection of prints taken from a book featured in her February solo show at K. Saari Gallery.
"I always like to get ahead of myself, so when something comes up, I have something to show. I don't like working on deadline, because I always screw something up," Wait said.
She doesn't hurry to sell and likes to hang on to things for a while before she considers where they'll end up. She also likes having the freedom to exhibit her books without borrowing them back from buyers.
"I'm not really in a hurry to let them go," she said of a series of encaustics from the chess series that line a worktable in her painting studio. "Because I just did them. It's frustrating sometimes to do something people like, and then you have to let them go."