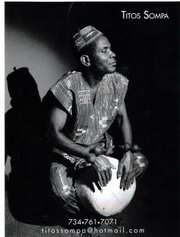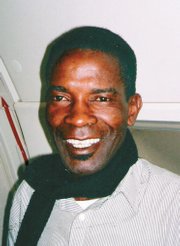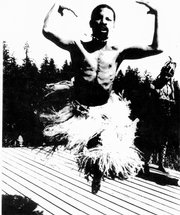 No one - at least not anyone in Steamboat - knows how old Congolese dancer and drummer Titos Sompa is.
What the members of the Steamboat African Dance & Drum Ensemble are sure of is that Sompa is one of the world's leading traveling teachers of his region's style of dance. Those who have worked with him at a summer Bantu Camp in New Mexico say he's a well-respected elder who infuses joy into his every moment, alternately clapping as he dances or shedding a tear when he tells stories about his home.
"He tells us about the Congo and about growing up there as a child, and kind of impresses on us that our children are the future - that's kind of what he stands for," Steamboat dancer Nicole Idzahl said.
"My image of him is sitting around at Bantu Camp, and five or six hours, he's singing and talking about the Congo, and he's got tears in his eyes. And when he's dancing, he's all about the joy," Idzahl said.
On Tuesday, Sompa will host two workshops on Congolese dancing and drumming at the Depot Art Center. The classes are the first of their kind for the Dance & Drum Ensemble, which has been around for about 25 years and now sends close to 20 people to Bantu Camp each year.
Sompa's style of dancing - which is based on hip movements and typically brings dancers close to the ground - is a break from the arm-centric West African movements Steamboat supporters of African dance are used to, said Alison McMillen, who leads Dance & Drum Ensemble classes.
Idzahl said the chance for anyone who is interested to experience Congolese dancing and drumming - and learning it from a man who started the Tanawa Dance Company and has performed alongside James Earl Jones, Elvin Jones and Ron Carter - is not one to pass up.
"Oh my gosh, just for everyone to experience Congolese dance is great. We're very excited he's coming, because we've never done this before," Idzahl said.