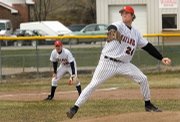 Steamboat Springs — Sometimes unexpected players determine the outcome of a baseball game.
After Eagle Valley pitcher Paul Suther stymied the Steamboat Springs High School bats in a 14-3 win Wednesday in the first game of a doubleheader played in Craig, the Sailors had every excuse in the book to lose Game 2.
With their two top pitchers proving ineffective in Game 1 and unable to pitch in Game 2 because of heavy recent workloads, Steamboat got a gutsy five-plus innings from Elliot Girard and three shutout innings from freshman Alan Capistron to take Game 2, 14-12, in eight innings.
"It's really tough to come back in game two after a first game like that," Steamboat manager Dave Roy said. "Like we talked about in Rifle, you have to learn to come back from adversity. Really, we came back in Game 2, gave up a lead and then came back again."
Steamboat led the entire second game until the bottom of the sixth inning. Up 10-8, Girard allowed the first four Eagle Valley base runners to reach to cut the lead to 10-9, before Capistron took the mound in relief. After a strikeout, Capistron hit Eagle Valley's Willie Williamson to draw the game even at 10. A wild pitch and a bad throw plated two more Devils to give Eagle Valley its first lead of the game at 12-10.
But after singles by Brandon Clark and Girard and a sacrifice bunt by Michael Lyon, Steamboat had runners on second and third with one out in the top of the seventh.
Eagle Valley manager Ken Reagan decided to intentionally walk No. 3 hitter Lars Johnson, who was 3-for-3 at that point, to set up a double play.
Reagan got the ground ball he wanted, but the ball squirted through second baseman Robert Padgett's legs, plating both Steamboat runners and tying the game at 12.
After Capistron worked through a leadoff walk in the bottom of the seventh, Steamboat's Cody Harris scored one of his four runs in the game on a slow roller to shortstop in the top of the eighth to score the go-ahead run. Capistron worked a 1-2-3 eighth to pick up his first varsity win.
"We just couldn't piece it all together," Reagan said. "We battled back but couldn't put in the dagger."
Although the second game didn't end how Reagan wanted, he couldn't have asked for much more from Suther in the first game.
The big right-hander threw five innings of three-hit hit ball, surrendering only two earned runs while throwing a paltry 82 pitches.
Most of Suther's success came from his ability to get ahead in counts. Suther threw 17 first-pitch strikes to the 21 hitters he faced.
"We got a great pitching performance out of Paul," Reagan said. "The hits weren't huge hits, but they were hits all in a row. Plus we made the routine plays."
Hunter Blevins started the damage for Eagle Valley with a three-run home run in the first inning off Steamboat ace Alex Wood. Wood - pitching on three days rest after throwing 117 pitches in Rifle on Saturday - looked fatigued and worked less than two innings before giving way to Johnson.
Blevins had four RBIs, Nick Whitehead and Ryan McClutock each had two RBIs, while Jack Barbella, Dan Mckierham, Williamson, and Nick Piertrack each pushed a run across.
Steamboat got RBIs from Josh Carlson, Isiah Forsyth and Johnson in the first game.
Steamboat next plays a doubleheader at 11 a.m. Friday against Battle Mountain. The game will be played in Eagle Valley.
Eagle Valley welcomes Moffat County for a doubleheader Saturday.
- To reach Luke Graham, call 871-4229
or e-mail lgraham@steamboatpilot.com