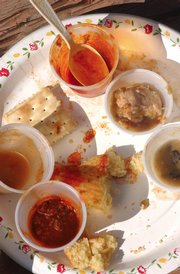 Steamboat Springs — In six years, Chris King has yet to win bragging rights from his entries in the North Routt Chili Cook-off.
He has, however, won the right to complain for 365 days at a time about the injustice of his six-can red chili being slighted in a competition that drew 37 competing crockpots of meaty stew Sunday to Tuffy's Roadhouse in Clark.
"It took seven hours and about a (Benjamin) Franklin, and it's got everything but the kitchen sink in it - I've got marinated rib eyes, I've got chorizo, hamburger meat, five different kinds of beans, tomatoes, chilies and six Coronas," King said. "It used to be my twelve-pack chili, but when I quit drinking, I lopped off half of it."
The cook-off brought waves of chili enthusiasts to North Routt and boasted a judging panel that ranged in expertise from five-star cuisine to rocket science - no joke - to ranch management.
"It's a big eat," King said of judging a chili category. For red chili judges, that meant downing and critiquing a two-ounce paper cup of meaty goop from 17 entries.
"If you think about it, that's more than two pounds of chili," King said. The cook-off also included a category for desserts, as well as gallons upon gallons of extra chili - along with cakes and cobblers - to fill out the taste-testing smorgasbord and keep people eating until about 5 p.m.
"There's still food, which is rare for there being an hour left," King said when the judging and prize giving was done.
Proceeds from the event will go to the North Routt Preschool and North Routt Community Charter School. The chili cook-off is once again exclusively for North Routt schools, said Nancy White, who founded both the charter school and the preschool. She said encouragement from people throughout the county helped the cook-off come together in just a few weeks.
"A lot of community support, a lot of people believing in both of the schools (brought the event together)," White said.
Bob White, president of the North Routt Community Charter School Board, said interest in the school has spiked significantly in the past year. The school now has 55 students and a 15-person waiting list. The $10 admission fee for tasting a bevy of locally stewed chilies will go to those students, he said.
"It's all about the kids."
- To reach Margaret Hair, call 871-4204
or e-mail mhair@steamboatpilot.com.