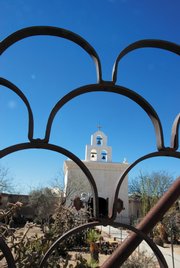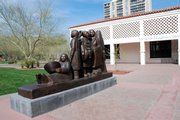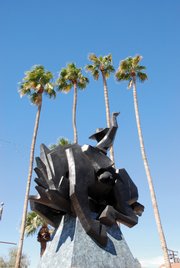 When snowbanks linger in Steamboat Springs in late April and flurries taunt budding aspens in early May, Steamboat residents often look to the desert for solace.
Relief is 2 1/2 hours away by air in Southern Arizona. Catch the first United Express flight of the day out of Yampa Valley Regional Airport this spring, and you can schedule an arrival in Phoenix before 9:30 a.m. Within 30 minutes of grabbing your rental car, you can be admiring more than 130 rare plants at the Desert Botanical Garden (dbg.org) in Papago Park. The Mother's Day concert and luncheon May 11 features the man in black - guitarist Esteban. Yes, that Esteban.
Native art museums, a pedestrian-friendly gallery district, destination golf courses, creative fine dining restaurants and an ultra-chic shopping mall - heck, even a hike in a wild desert preserve - are within a 15-minute drive of one another in a relatively compact part of the city. The area is north of Phoenix Sky Harbor International Airport between downtown and trendy Scottsdale.
As a weekend getaway, Phoenix, with a metro population of 4 million, can be a bit overwhelming. However, if you define your targets and carefully choose the location of your lodging property, you'll be rewarded. Especially if warming your bones is a high priority.
We'd suggest you focus your search for lodging along north/south-running 50th Street. Look east and west along the broad boulevards beginning with McDowell Road in the south and continuing north to Thomas Road, Indian School Road and more luxurious Camelback Road.
The beauty of this area is that you can find a variety of accommodations in a wide range of price points, all within easy distance of downtown Phoenix to the west and less congested Scottsdale to the east.
If price isn't an issue and you want to feel like a movie star (or if you are a movie star), pay $470 a night to stay at the stunning Royal Palms. You won't be disappointed.
If you need to conserve fun tickets, you can stay at a chain motel 10 blocks south on Thomas Road for $110. You'll be just 20 blocks from all of the action in Scottsdale. And the good news about getting around this part of the city is that everyone drives 50 mph on the four-lane boulevards (there are no pedestrians in most of Phoenix), and the stoplights are about three-quarters of a mile apart.
Tee it up: One of the reasons Phoenix is such an attraction for golfers is that it is so egalitarian when it comes to the links. The dream courses are public, and we're advised you shouldn't hesitate to show up as a single. Our local source in Phoenix recommends avoiding the much-hyped Phoenician - the fairways don't measure up. Instead, treat yourself to Troon North or the Tournament Players Club Scottsdale.
Day at the museum: If you make it to Phoenix only once every five years, a visit to the historic Heard Museum in downtown Phoenix is mandatory. The 50th annual Indian Fair and Market took place March 1 and 2 this year.
Devoted to native cultures and art, the Heard does more than any collection we've visited to compare and contrast the art produced by the many tribes of the desert Southwest and Four Corners region.
On a recent visit, docent Barbara Jones led us through the "HOME: Native People in the Southwest" exhibit. She was eloquent in describing the influences that European trading posts and collectors have had on the pottery, jewelry and textiles produced by native artists in varying locations. Of particular note was the collection of Hopi katsina or kachina figures. Did you know these effigies of Hopi spirits are traditionally carved from the roots of cottonwood trees?
Heard Museum, 2301 North Central Ave. www.heard.org. Recorded phone information: (602) 252-8848
Lunch at the Heard: Plan to remain on the museum grounds for lunch under the shade trees at Arcadia Farms ($7 to $13). We vote for anything off the classic menu, including the thick posole with roasted pork and the homemade tamale duo with ancho chile cream sauce.
Go gallery hopping: Scottsdale's old-town gallery district reflects the remnants of a historic Western town and is more pedestrian friendly. We also found the gallery owners excelled at making browsers feel welcome. You can sample a wide variety of art within a two-block range. In contrast to Santa Fe, Scottsdale galleries are more apt to prominently feature romantic portraits of native peoples.
A gallery that stood out was River Trading Post, next to the gateway statue of a cowboy on a bucking horse at 7033 E. Main St.
The antique wooden floor and tin ceiling set the tone, and a corner workshop where American Indian artists demonstrate their craft elevates this gallery.
You can find a gleaming black Maria Martinez polychrome pot for $3,000, and a 1920s-era 40-by-55-inch Navajo rug for $2,200.
If you want to time a visit with an appearance by a particular artist, subscribe to their RSS feed at Rivertradingpost.com.
For a change of pace: Take a few minutes away from Southwest art and check out Femmes Fatales & Fantasies at 7013 E. Main St. in Scottsdale. If you're in the midst of planning a home theater in Steamboat, you'll want one of their vintage film posters.
Splurge on Wildfish: If you want to dine out in affluent Scottsdale and feel like you fit in while enjoying a luxurious seafood dinner that won't wipe you out, Wildfish Seafood Grille is a good bet. Wildfish is in the heart of the Scottsdale shopping district, 7135 E. Camelback Road, within a half block of Dolce & Gabbana and Tiffany & Co. at Fashion Square.
Entrees are $30 to $50. The grilled Pacific ahi, reputedly caught the day before and jetted to my table, flat knocked me out.
The menu is a la carte - so go ahead and drop some cash on the side dishes. The truffled homemade macaroni and cheese is suffused in truffle oil and topped with actual bits of truffle. It's like nothing I had ever tasted.
If you really want to impress your date, order martinis and the Wildfish tower of iced shellfish. It arrives with monster shrimp, Jonah crab claws and eight freshly shucked Louisiana oysters.
Take a hike: The city of Phoenix has a remarkable system of desert mountain hikes with many miles of rugged trails leading through prime examples of desert flora. Find the trailheads at www.phoenix.gov/parks.
Side trips: The city of Glendale on the western edge of Phoenix is best known for the football stadium that hosted the 2008 Super Bowl. However, Glendale's historic district is said to have the best antique shopping in the metro area.
Mission San Xavier del Bac: If you've always admired the photographs of this stark white, late 18th-century Spanish mission (built by Tohono O'odham Indians) and wanted to replicate them, don't hesitate to make the two-hour drive to Tucson for lunch. Be forewarned, however, that ongoing maintenance has caused scaffolding to be raised on portions of the cathedral, interfering with the classic exterior photo. We enjoyed our visit anyway, and creative photographers will find lots of shots.
Don't overlook the interior of the small chapel, with hundreds of period Santos and burning candles. Take Interstate 19 south of the city and look for the exit about six miles south of the I-10 interchange.