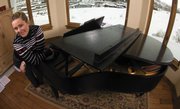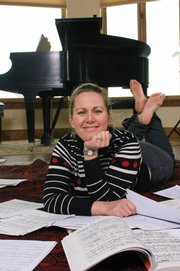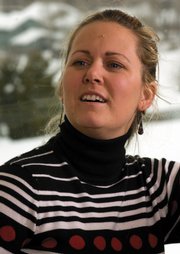 Keri Rusthoi was looking for a place where she could ride her horse and spend a winter living the ski bum lifestyle with a few college girlfriends before attending graduate school.
Good thing she chose Steamboat Springs over Jackson, Wyo.
It was the summer of 1993, and Rusthoi - who was born in Saudi Arabia, grew up in Los Alamos, N.M., and attended Colorado College - lived in a barn at the Perry-Mansfield Performing Arts School and Camp. She thought she was in heaven instructing riding during the day and singing at night. But to pursue a professional singing career, she had to head to the Big Apple. While attending the Manhattan School of Music, working full time as its orchestra manager and completing a master's degree off-site from the University of New Mexico, Rusthoi found herself off the range and in sudden hysterics one evening, shocked at an absurdly packed subway car flying under the streets of the Upper West Side.
Back in Steamboat, the Emerald City Opera founder and artistic director says she now has the best of all worlds, living with her family in a spot where she can ski, ride horses and put on a world-class opera. Of course, the self-proclaimed Pisces still has her hands full. There's not a lot of time between riding horses, building a new house, raising a 2-year-old child and earning her pilot's license. And that doesn't include trips back to New York City to study under retired Metropolitan Opera staple Jean Kraft, honing her voice for a summer tour with stops across Europe. Oh, yeah - and her opera company puts on one mainstage production each summer as well as a pair of concert series, the Outstanding Artist Recital Series and the Resident Artist Spotlight Series. Rusthoi recently sat down with At Home's Dave Shively.
At Home: So what brought you back to Steamboat?
Keri Rusthoi: My horse, Trouble, died while I was living in Manhattan and it really threw me for a loop. I was so shook I was literally bumping into people on the street. I had a change of heart. First of all, I didn't really enjoy New York at the time. I had grown up just north of Sante Fe, riding my horse all day, then jumping in the shower and going to work at the Sante Fe Opera, which I did in the summers and got to see world-class opera. I always thought that horses and opera and mountains went together. Then I moved to New York and figured out they really don't.
Some of my girlfriends were still in Steamboat teaching skiing. I needed a break to figure out what was really important. So my horse died in September of '96, and I came out here two weeks later and a friend had a ranch that needed caretaking. I went from a high-rise in Manhattan to living in the middle of nowhere and snowmobiling to this ranch house down in Grouse Creek Park. But I was going to go back to New York, because I had a coach at the Met to prep me for some auditions.
AH: I take it that never happened.
KR: Well, I met the man who is now my husband pretty much the day I got here. I came out again for four days and it just so happened to be the weekend of ski instructor tryouts. My girlfriends were ski instructors, and I had learned a little bit and had gotten better over years and for some bizarre reason they hired me. My future husband, Robert Harvey, was trying out too - he was pursuing the Olympics as a freestyle skier and decided to retire. I really wanted to learn how to ski, and he is an amazing skier. I did ski instructor tryouts, went back to New York to do a Fulbright interview - which I didn't get because obviously my brain was somewhere else - and finished the semester. Two weeks later, I came back at Christmas time and have been here ever since.
AH: How did Emerald City Opera start?
KR: I grew up at the Sante Fe Opera and had amazing connections from the New Mexico Symphony Orchestra and the Manhattan School of Music. So I moved back to Steamboat from New York and there wasn't an opera company - there wasn't really anything vocal going on. On a 2001 tour in Europe - with Opera New York's "The Best of Andrew Lloyd Webber" - the management of the tour was less than desirable and one of the things that came out of it was the collaboration to do an opera. We were going to do it in New York, and because I was going to be working so hard on it, I said why don't we do it in Steamboat, too. Things progressed, and I was getting tons of help in Steamboat, but not getting any in New York. So I said fine, let's do it in Steamboat. In the process of putting on an opera, I discovered it was about the same amount of work to put on an opera as it is to start an opera company. So I started an opera company. One of things that I love about Steamboat is that if you have a great idea, everyone will get behind you and say, "Cool, let's do that." So it was easy to start the company, and it was easy in a lot of respects to do the first show ("The Magic Flute" in summer 2003).
AH: I read that the word opera means "work" in Italian. Does that ring true?
KR: It takes all year to put together one opera production. I do it year to year, whereas most opera companies are two to three years out. It's an incredible amount of work that I don't think people actually understand. On a day-to-day basis, I have five individuals I work with regularly. For the most part, we're all volunteer, but we just hired someone full time. In summer, in the middle of production, there's 100 to 150 (people) in town here for the opera that I manage.
AH: Sounds like you're telling me it's a challenge to put on an opera in Steamboat.
KR: It's actually a miracle every year. We don't have a performing arts center; we don't have any local operatic professionals; we don't have any technical professionals who know how to put up an opera; we don't have any consultants that know about opera. I have to import or train everyone. I have gotten by creating the artistic quality we create in the midst of nothing by begging friends who are artists, by begging the local businesses, by begging people to volunteer. But the truth of the matter is opera lovers are everywhere, and they come out of the closet, so to speak, and come up to me on the street and thank me. Obviously I love it, and when there is an artist in town, I remember why I work so hard all year - I love to hear them sing. I sit at the back and go, (sigh) "That's why."
AH: Is it OK for ski bums to go to operas? Do I need a three-piece suit and a monocle?
KR: A lot of people will say, "I love 'Phantom of the Opera.'" I think that's awesome, everybody can love whatever they want to love. But that's musical theater, it's not opera. What's so great about opera is the art of singing in addition to everything else we do on stage. It's multimedia, and I used to play in the orchestra so I can say this - that it's not just sitting still with a little bit of movement, reading music in front of you and making beautiful sounds. It's dance, it's costume, it's drama, it's singing, it's orchestral, it's chorus, it's everything - the lighting, the sets, there's so many elements to opera that make it so exciting. : If you're not passionately in love with opera, you just haven't seen good opera. Much like somebody who's not passionately in love with skiing might not have tried it enough.
AH: So is there potential for the local arts community?
KR: (A performing arts center) is going to happen. The arts have grown exponentially in the five years the opera has existed, and it's really at a breaking point. The community can't support much more with what we have in terms of venues. There's some really fabulous arts groups, but we're scattered and discombobulated because there is no center, and if there were, we'd have cohesion as an arts community. You know, where the whole is greater than the sum of the parts, that would be true for Steamboat's arts community to bring us together.
- Interview by Dave Shively
Photos by John F. Russell