Photo Gallery
Mom-toddler exercise class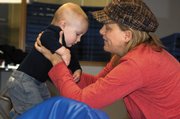 Mom-toddler exercise class lets kids work out their energy
The students in Robin Wilson's class at Colorado Mountain College are not the timeliest bunch.
Moms and their toddlers trickle in - some arriving only a few minutes before class is scheduled to end - with diaper bags, sippy cups and sleeping infants in tow.
"In the winter, we have a hard time getting out of the house," said Marcia Cobb, mother of 14-month-old Nicholas. "In the winter, you have to shovel, you have to bundle the kids up in 18 layers, then change their diaper and dress them again - you have to start the car early."
Wilson, a mother herself, knows that winter is a hassle for parents with young children, and she takes it all in stride as she leads her Mom and Toddler Movement exercise class.
"Hurry up and have fun," Wilson tells the kids as they arrive.
Wilson started the class this winter out of her frustration with having nowhere to take her active 2-year-old, Kyra, in the cold weather.
The Mom and Toddler Movement class provides a good indoor recreation opportunity to kids during the months when they would otherwise be cooped up indoors, Wilson said.
"In the winter, all the parks are closed. In here, they can run, they can play," Wilson said. "The emphasis is on the kids and getting them moving and familiar with their bodies."
Wilson has worked as a fitness instructor and is now bringing her expertise to a newer, younger audience.
"She's been in the studio exercising since she was little," Wilson said about Kyra. "She wants to be exercising like everybody else."
At the twice-weekly Mom and Toddler Movement class, Wilson's daughter may get enough exercise just trying to carry all four bags of plastic balls across the room to the ball pit, refusing help from mom.
The Mom and Toddler Movement class is designed for children ages 1 to 4. CMC also offers a Yoga for Moms and Tots class aimed at a slightly younger - and less active - age group, Wilson said.
The Mom and Toddler Movement class is much less structured - it simply provides young children with a place and the equipment necessary to get moving, Wilson said.
"Once they get this mobile, it's hard to get them to do what they're supposed to do in a class," Wilson said.
Indeed, each meeting of the class seems destined to hold a few bumps and bruises, some tears and the occasional mother-child lecture about how to behave.
The course provides a valuable socializing experience, especially for only children who are too young for preschool and are not enrolled in any group day care programs, Wilson said.
"It's social interaction for them. I'm a stay-at-home mom, so she doesn't get to interact with other kids a lot," Wilson said.
"It's great for the parents, too, because it gets us out of the house," Cobb said.
Discussion among the mothers switches readily from the timeline for well-baby checkups to the relative merits of "Happy Feet" and "March of the Penguins."
"All the parents love this - we're trying to get them to keep it going," Cobb said.
For more information about the Mom and Toddler Movement class, call Wilson at (970) 846-3356.