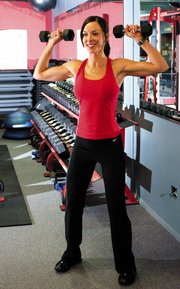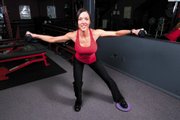 The "hour of power" isn't what you'd expect. No, it's not the afternoon siesta following that Double Z cheeseburger, and it's far from the notorious beer-drinking marathon of fraternity lore that comes to mind.
Even when you hear about what is a concentrated fitness class squeezed into 60 minutes as the steady marquee offering of Steamboat Springs' Fusion Fit, you're still a little off base.
You're probably thinking Spandex and sweat bands, and gymnasium jam routines choreographed to the Pointer Sisters.
Well, that's not exactly the Fusion Fit Hour of Power atmosphere that kept Juliet Dayton motivated to drop 60 pounds in a little more than a year, one hour at a time.
"I love the class, it's never boring," Dayton said. "You don't realize the hour's over; you did all these different things and then you're done."
Three basic tenets of focus - strength, cardio and core - drive the Hour of Power class instructed by Fusion Fit owner Jenn Warren.
The idea is that by starting on the inside, mixing a variety of exercises to strengthen the body's core muscles, class devotees can then take the "total body" fitness outside.
"People here have something they want to get better at, so there's a functionality to the training," Warren said. "People are looking more and more for functional workouts that transfer to the outdoors - movements to strengthen for cycling, skiing and hiking."
The class itself, which usually has about 10 loyal followers of varying abilities, also transfers from indoors to outdoors with the melting snow. The class's winter "hour" gets extended a little come summer to accommodate the changing locations of field workouts, and its name changes to Total Body Bootcamp.
"We always pick something varied where you're doing more than one exercise," said Warren, who suggested, after a brief warm-up, starting with a squat combined with an overhead dumbbell press (pictured at left). "You're mixing exercises so that you're challenging your balance and core strength."
Warren also added that by putting your bigger muscle groups to work, you can maximize calorie burning during your workout time.
So as the days grow longer and the outdoor recreation options begin to tempt once again, Warren suggested a couple of Hour of Power classics - ones that don't require the full gamut of fancy BOSU balls and equipment stocked at her "Personal Fitness Studio" - to be ready to put fitness form to outdoor function.
To get those biking legs back, try a lateral arm raise with a lightweight dumbbell combined with a side lunge, extending your leg on a gliding disc (easily substituted with a disposable plate, pictured above right). Try three sets of 10 repetitions on each leg, raising one arm or both. The number of reps isn't as important as the quality, slowing down to focus on the muscles you're working.
"Sometimes people go too quickly through the free weights - you're talking about the momentum of swinging the weight around versus really slowing down and engaging your muscles to do the movement," Warren said.