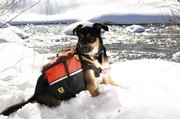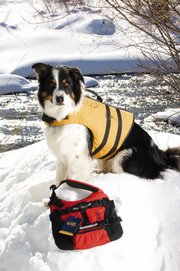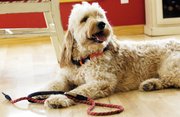 Brinkley takes a nap inside a Ruffwear tent. You don't need to go camping to get use out of these tents. Set them up in the backyard to let your dog have a shady, sheltered spot to escape during barbecues - or at least until the food starts cooking. $98, available at Paws 'N Claws 'N Things, 345 Anglers Drive, Unit B, (970) 879-6092. Also pictured: Soft Bite Floppy Disc, $17.95; Gulpy H20 to Go, a water bottle that attaches to your pants, and comes complete with dog drinking spout, $9.95; and a Chuck it! tennis ball launcher, $15.95; Brake-fast bowl, which will slow your pooch down when he's eating, $15.95.
2. Dax is ready for a backpacking trip in his Mountainsmith Dog Pack III. Let your dog carry treats and water himself in a comfy backpack, $70. Available at Backdoor Sports, 841 Yampa St., (970) 879-6249. All sizes can be ordered.
3. Pete Van De Carr, owner of Backdoor Sports, got a lifejacket to keep his dog, Buddy, safe on the river. Buddy was the winner of the 25-yard dog dash during Winter Carnival for the fifth year in row, pulling a child on a sled down Lincoln Avenue. Pictured beside Buddy is the NRS dog life vest, $40. Available at Backdoor Sports, 841 Yampa St., (970) 879-6249. All sizes can be ordered.
4. Nilla models a collar of her favorite sports team, the Denver Broncos. Felix & Fido in downtown Steamboat Springs offers a wide selection of collars and leashes, including sports teams and collars with a little bling. Pictured is a Broncos Hunter NFL Sports Collar, $14, and a Knot-a-leash from Ruffwear for $22. The leash is for extra-strong doggies - it's made of the same type of rope used by rock climbers and is attached to collars with a carabiner. Available at Felix & Fido, 635 Lincoln Ave., (970) 870-6400.