Photo Gallery
California roll preparation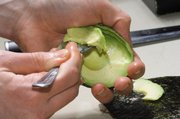 Makes 4 or 5 rolls Ingredients Sticky Rice 1 English cucumber Cut into strips half the length of your half sheets of nori Crab mix/sticks Use whichever suites your taste 1 sushi-ripe avocado Sliced to desired thickness (fig. 1) 5 half-sheets of nori Goma (toasted sesame seeds) Vinegar dip 75 percent water, 25 percent vinegar 1. Cool your hands under cold running water. Dry your hands. Cold hands will sweat less and stick less to your rice. Dip your fingers in the vinegar dip and clap your hands to remove excess water. Take some rice with your finger tips. Place the rice ball in the center of the nori and gently distribute the rice over the sheet. Don't work your rice too much; if you smash your rice grains you are pressing too hard. Flip the nori so the rice is facing down. Make sure your cutting surface is slightly damp, but not wet so the rice does not stick. Now you can put the ingredients into the roll. 2. Place a row of cucumber strips lengthwise in the center of your nori sheet. Leave some room on the sides of your nori so the filling doesn't get squeezed out. Put the avocado alongside your cucumber and do likewise with your crab sticks (fig. 2) 3. Gently fold the side of the nori nearest to you over the ingredients and tuck it under. (fig. 3) Then gently roll forward until the crease where the nori ends is on the bottom. (fig. 4) Form your roll by pulling and lightly squeezing your mat. (fig. 5) Gently hold your ingredients in on the ends while forming your roll. (fig. 6) 4. Use a very sharp knife for cutting your roll. Also, dip the knife blade in the vinegar dip and tilt it back so the water runs down the blade. This keeps the rice from sticking to the knife. Cut the roll into halves, then halve these halves, and then do it once more. (fig. 7) 5. Enjoy the fruits of your labor. (fig. 8)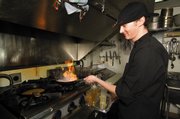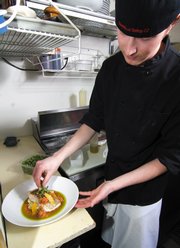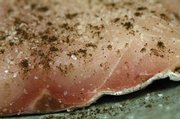 Like a sports franchise building for the future, Saketumi has decided to go young.
After going through a few head chefs in the restaurant and sushi bar's first couple of years, owner Kier Delaney decided to invest in young employees rather than bring in expensive veteran cooks who tend to be "old, stuffy and set in their ways."
The result: executive chef Kyle Bartholomew, 24, and head sushi chef Crystal Zieu, 22.
Delaney said it is refreshing to have employees who are motivated and not afraid to do things outside the box.
"We do a lot of things far from tradition," Delaney said. "There's challenges with young people, but it's better than it was."
Bartholomew has found an ideal restaurant in which to lead his first kitchen. On any given night, Saketumi's small kitchen is staffed with only three people: two cooks and a dishwasher. While a small staff is undoubtedly easier to manage, Bartholomew said his kitchen is by no means exempt from the personality clashes found in any restaurant.
"Sometimes I feel like I need a psychology degree, too, dealing
with all the weirdness around here," he joked.
But Bartholomew admits it's a small price to pay to do what he loves for a living.
"There's endless advancement," Bartholomew said. "There's no plateau where you stop getting better as long as you want to get better. There's no end to what can be done. What could be better? You learn something every day."
Since placing his bets on Bartholomew, Delaney has done his part to foster the advancement the young chef craves. Specifically, Delaney challenged Bartholomew to write a menu that would bring people to Saketumi as much for its entrees as for its popular sushi bar.
"I asked him to come up with something that we could be proud of coming out of the kitchen," Delaney said. "It's taken three years to make that happen."
Bartholomew responded with three new dishes for the 2007-08 ski season. For At Home, he prepared the one he said has been the most well-received - a red snapper with tomato-green bean relish, orange wedges, mustard mashed potatoes, orange-pineapple sauce, truffle oil and basil oil. The dish embodies many of Bartholomew's tastes.
"I like bright colors," Bartholomew said. "I don't like to bog things down. I don't use a lot of creams. : And I despise fried food. It all tastes the same to me."
Bartholomew is not one for pre-game rituals before arriving at Saketumi every night, but he does like to hit the steam room at the Steamboat Grand Resort Hotel to make sure his head is clear. And at the end of the day, the only thing Bartholomew obsesses about is doing better the next day.
"It's never good enough," Delaney said. "I love that about Kyle."