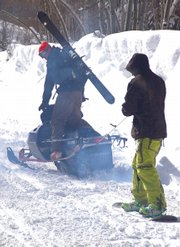 Steamboat Springs — The road to Buffalo Pass grows increasingly treacherous, with dry pavement giving way to soggy gravel and finally a thick gleaming coat of Routt County snow.
The still-massive snow banks on either side of the road grow ever higher and hug the path increasingly tighter, until there's just one lane cut through the forest, ascending the mountain. Travel long enough, and the road goes no further, the county plows having given up a few dozen yards past an open parking lot.
It's a fine place for a secret. Steamboat Springs itself is 15 minutes in the rearview mirror and still-healthy pine trees shield everything, even blotting out the sun on an otherwise bright morning.
The pass, the jumping off point for some of the best backcountry skiing in Northern Colorado, is a secret, at least according to its biggest fans.
"Write that we showed up at 6 a.m. for the best snow, and we'll slit your throat," one enthusiast warned moments after popping over a hill on a snowmobile, a trio of snowboarders riding behind hanging to a rope.
A wide grin gave away the joke. Or was that a sneer?
Buffalo Pass is located north of Steamboat up Routt County Road 36, then a few miles east on C.R. 38. It's about as well kept a secret as the location of Old Town Pub & Restaurant. Neither appears on Google Maps, but everyone in town knows how to get there.
Truck after truck rolled up toward the pass early Saturday morning. The small parking lot quickly overflowed, and vehicles and trailers lined up bumper-to-bumper for 300 yards back toward town. Tailgates fell open, and snowmobiles slid onto the packed snow.
Longtime fans say the once-tranquil Buffalo Pass is always a zoo these days. The conditions Saturday had the animals stampeding. The Steamboat Ski Area flipped the switch on its lifts last weekend, and the nearest resort mountain was hours away. Mother Nature apparently missed the message, dumping nearly a foot of snow on the town Friday. The load was even greater at the pass, 1,500 feet of elevation higher.
It was too much for many residents to bear. Snowmobilers swarmed for the opportunity to cut up new powder. The parking lots and road shoulders became impromptu service centers, launching pads for backcountry expeditions.
So maybe Buff Pass isn't a secret. Still, few who geared up for a day of skiing and riding in the unpatrolled wilderness did so without at least a little something they liked to keep to themselves.
"We didn't leave last night until 9 p.m.," Aryeh Copa said. "It was belly-button deep in places."
Come early, come late
That's Copa's secret - he comes after the crowd. He packs a camera, a set of skis and a couple friends on their own machines, sets out after work to soak up the remaining rays and looks for spectacular sunset photos.
Others take a different approach. Skiers and riders began loading up at 5:30 a.m. Rick Ostrom headed up with Gary Osteen and other friends to beat the crowd and already was going home while a dozen sleds were gearing up for the first circuit of the day.
"It's worth it," Osteen said. "Light, deep and untracked - this is as good as it gets. We're in the middle of April, and this is as good as it gets."
There's a danger involved that's not as prevalent on the groomed runs accessed by the Thunderhead chairlift. Tom Whiddon and Tom Heilner, loading their skis into a metal rack on the back of their snowmobiles, said it's imperative to pack enough to stay the night, just in case.
It's the wide-open acres that keep them coming back - and have led them to all but abandon the ski mountain, open or closed.
There's so much space, in fact, that maybe there still are a few secrets left in the powder pass, hidden in plain sight 1,500 feet above Steamboat Springs.
"Today is a special occasion," snowmobiler Ren Martyn said, waiting as some friends unloaded their own machines. "With the mountain closed and all the snow, everyone's out. We also ride up north, near Hahn's Peak, but there's so much acreage up here.
"Everyone has their sweet and hidden spots. It's still phenomenal riding."
- To reach Joel Reichenberger, call 871-4253
or e-mail jreichenberger@steamboatpilot.com