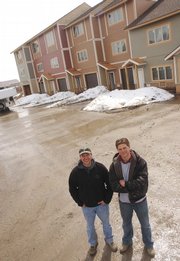 Steamboat Springs — Fourteen new housing units are about to come on line in western Hayden.
Phase 1 of Creekview Townhomes and Plaza is nearly completed, developers Stefanus and Louis Nijsten said. That section of the project will include eight condos, seven retail units and six townhomes.
The residential units will be ready this summer, starting with the townhomes in June, Stefanus Nijsten said. The one- or two-bedroom condos, which cost $180,000 to $205,000, have been reserved. The three-bedroom townhomes will cost $310,000 to $320,000.
Prudential agent Annette Hall started takng reservations for the business sites last week. She is co-listing the units with Louis Nijsten.
Retail spaces range from 600 square feet to more than 1,500 square feet and will cost $120,000 to $300,000, Hall said. An appliance showroom is planned for one spot, and the Nijstens talked about a pharmacy and possibly a coffee shop.
"We want to see businesses that attract people," Louis Nijsten said. "We want to have people come in and go out all day long."
The brothers are partnering with Bob Zibell on the development. The project sits on 3.21 acres south of U.S. Highway 40, east of Dry Creek and west of an alley between Fifth and Sixth streets. The land includes the Creekview Grill, which the developers run.
They opened the restaurant in fall 2006 and often have worked there after a long day on the construction site, where they do much of the building.
"We were basically running the restaurant ourselves," Stefanus Nijsten said.
"Every night, we'd wash up, get clean jeans on and come in."
It was tough, Louis Nijsten said, but the brothers expressed an attitude of willingness to do what it took to serve Hayden.
"That's the philosophy of this whole project," Louis Nijsten said. "We're trying to provide what the town needs."
The brothers, who are from Holland, said they enjoy working in and with the town. Louis lives in Hayden, and Stefanus plans to move from his Steamboat Springs home into one of the six townhomes. Features of those units include a garage, two or 2 1/2 bathrooms, a patio, a second-floor deck and wiring for a multiroom sound system.
"I know for a fact they're going to be very nice," Stefanus Nijsten said.
The brothers wanted to encourage people to live and work in Hayden, so it was important for them to add residences and businesses, Stefanus Nijsten said.
"Usually, developers do one or the other," he said. "And then either your tax base is too small to service the residences you create, or you create jobs you don't have homes for."
Zibell and the Nijstens are planning 10 more residences in two complexes on the west side of Sixth Street as part of the second phase. They said they hope to complete those this summer. That land also could include a motel on U.S. 40, the Nijstens said.
"What we always wanted was a motel," Stefanus Nijsten said. "The town would like to see it, and this is a good location."
They did not give details but said they were in talks with someone who would operate the motel. The pair initially considered building and running the motel themselves.
"But we have so many irons in the fire, we don't need another operation to run, as well," Stefanus Nijsten said.
The motel would be the final part of the Creekview development.
"That motel's going to put a wrap on this whole project," Stefanus Nijsten said.
The Nijstens said they have more land in Hayden and more ideas. Stefanus Nijsten said they are thinking about building affordable housing in Hayden.
In the meantime, though, they're focusing on finishing the retail units and the 24 residences at Creekview. The town is ready for the services and housing, Stefanus Nijsten said.
"It just needs to happen," he said, "and somebody needs to do the kickoff."