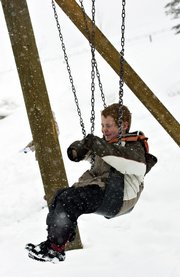 Learn more
April is National Autism Awareness month. Read up-to-date information about autism treatments, wellness tips, awareness and events on the Web at www.autism-societ...
Get in touch with local resources through the Northwest Colorado Board of Cooperative Educational Services at www.nwboces.k12.c..., or call 879-0391.
Contact the Yampa Valley Autism Program at 870-4263 or visit
www.yampavalley.info/health9462197.asp
Steamboat Springs — By the end of last summer, Denise English wasn't sure she could make it work.
The $15- to $40-an-hour therapies and 24-hour care necessary for her 8-year-old son, Jack - who was diagnosed with an autism spectrum disorder at an early age - had produced financial and emotional burdens that seemed insurmountable.
"We ended up spending much of our time inside our little 700-square-foot condo. We all went crazy for years. I was so broken down that there was a time when I didn't think I could do it anymore," English said.
Then, a patient at Pine Grove Dental, where English works, offered her family housing at his Stagecoach home for the winter - for free. The place has a big backyard, five bedrooms and a hot tub. English said that for Jack, the house is like Disneyland. She refers to the patient as a saint.
"I don't know what we would have done, because I couldn't pay the rent. It was perfect timing," she said.
Autism every day
The rate of diagnosis for autism spectrum disorders has spiked in recent years. According to a 2007 report by the Centers for Disease Control and Prevention, the prevalence of autism has risen to 1 in every 150 children, and close to 1 in 94 boys.
The Autism Society of America estimates the lifetime cost of caring for a child with autism at $3.5 to $5 million.
That includes education, treatment, services and therapies that often are hard to find or may lag behind the need of a particular area.
For many families, that burden - financial and emotional - falls on a single parent.
There were years when English couldn't take her son anywhere. Jack got frustrated with not being able to communicate, or anxious with loud noises and difficult situations.
"He just gets so frustrated, because he doesn't talk. You're constantly trying to guess what's bothering him - is it the sounds, the surroundings, does he not feel good? He just can't really tell you what he's feeling," English said. Jack would throw tantrums and bite, scratch or head butt his mother and therapists.
All of that has gotten better with more space and time to relax in the Stagecoach house.
There are high points, but English said it's important to understand that having a child with autism is not easy. She sees pictures of a child with autism holding a soccer ball, or clips of a teenager with autism nailing long-range basketball goals. But that's not her kid.
"It's not normal. Everything you do revolves around autism," she said.
In the schools
It's lunchtime for first- and second-graders at Strawberry Park Elementary School, and Jack is dining on plain bologna and pizza - two of a handful of foods he will eat.
At the table, he's learning how to use a small touch-screen computer called a Tango. It's one of several assistive technology devices he'll try for short periods during the course of this school year, in an effort to find an access point to the curriculum that works well for him.
Outside for recess, Jack plays on the swings while other second-graders run and play on a jungle gym. As part of the school's inclusive curriculum, Jack does most everything alongside his classmates.
"He doesn't really have the social skills to play with other students, so what he does is he parallel plays. So he's with them and by them, but he does his own thing," said Strawberry Park special needs teacher Ann Trout, who has worked with Jack for three years.
The classroom setup is similar - Jack works with a paraprofessional on computers, reading, counting or doing math in the same space as the rest of his class. He uses a large yellow book called the Picture Exchange Communication System to communicate, and a similar picture system to go through his schedule for the day. He sees a speech therapist twice a week.
"So much of what he does is so language-based, so communication-based, that everybody works with him on communication," said Mary Johnston, a speech language pathologist at Strawberry Park Elementary.
"We all have the same goals, and we're all working on the same things," Johnston said. "There are lots of people on his team."
A community effort
The support available to children with autism in Routt County has grown significantly since Don and Kim Vogel started in the system with their son Beau, who is 21 years old.
Special-needs education for this region is controlled by the Northwest Colorado Board of Cooperative Educational Services, which operates special needs education in seven school districts.
Building support and services for children and adults with autism in Routt County has been a slow process, with grass roots effort and dedicated parents leading the way. But there's a lot of work left to be done.
"I would say from one to the other is going to be totally different because each child with autism is different from the other," said Babette Dickson, who along with English is one of the founding members of the Yampa Valley Autism Program. Dickson's 11-year-old son, James, has autism, and she has been outspoken in her fight for his rights.
James is lively and friendly, outspoken and good-natured. And while most everyone likes James, Dickson said her son's autism stands in the way of him having a typical fifth-grade life.
"Everyone loves him and knows James, but he's lonely in the way that he has no social life," she said. "They don't go to the mountain and ski with their buddies like 10- and 12-year-olds do. But this is because the public doesn't know how to work with it."
That impact is felt with the whole family, Dickson said. Along with educational, social and financial factors, Dickson likens being a parent of a child with autism to solving a never-ending equation.
"You have in an equation XYZ, and you try to solve those things in your equation to move on. And the more you go, the more you have in the equation. : It's an equation with a lot of unknowns, a lot of things to solve," she said.
Kim Vogel said that equation - often symbolized by a puzzle piece - is a constant concern. But you figure out a new piece every day.
"You have to kind of really think through all the things you're doing in life," Vogel said. Despite those challenges, she has the same hopes and dreams for Beau as any mother would for her child.
"Like anybody else, there's a lot more joy than there is anything else," Vogel said. "The fact that he's been difficult to figure out makes those joys all the more poignant."
- To reach Margaret Hair, call 871-4204
or e-mail mhair@steamboatpilot.com.