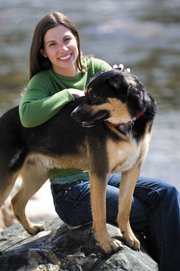 When planning the stories for our spring edition of At Home in Steamboat Springs magazine, a feature about dogs quickly shot to the top of our list. It's nothing shocking - Steamboat Springs is a dog town.
When I moved to Steamboat in 2003, a colleague joked that true locals have three things: a Subaru, a ski rack and a dog. Dave Shively's story sums it up - we're a dog-gone ski town.
At first, we weren't sure how big of a dog piece we could do. Sure, we love our furry friends, but is there really enough in Steamboat to interest our readers? When we sat down to brainstorm who to interview, the list came together quickly - and went on and on.
Spiffy Dog has offices here, and there is a new bakery devoted to dogs (snag a recipe on page 116). The Heeling Friends and R.E.A.D. programs use animals to cheer up sick patients and help children gain confidence in their reading skills, respectively.
We found Diana Childs, a woman who rescues border collies, and talked to Frank Cefaratti, who has organized off-leash playtimes in parks across town for dogs.
Our gear guide even took on a dog theme when Pete Van De Carr at Backdoor Sports and Dave Terranova at Paws 'N Claws 'N Things introduced us to the amazing gear available for mountain pooches.
Of course, we had no shortage of models for the story. My dog, Dax, and co-editor Brent Boyer's dog, Nilla, make cameos on page 119. Photographer John F. Russell may not have had the easiest time getting these subjects to pose, but the personality they brought to the photo shoots certainly comes out in his work.
But dogs aren't the only feature in this issue.
Starting on page 53 you'll find the first Wedding Guide insert, which previously had published annually inside the Steamboat Pilot & Today. Focusing on weddings gave Shively, our new magazine writer, the opportunity to get in touch with his romantic side. Shively talked to Katie and Benny Tollar, who executed the ideal Steamboat wedding.
From the ceremony outside a ranch, to riding up the gondola, to a reception at Steamboat Ski Area, Shively takes readers behind the scenes of the wedding and provides ideas for those planning their own special day.
Also featuring stories about the 28th annual Hot Air Balloon Rodeo, Strings in the Mountains' new pavilion and homes that were made to entertain, we hope this issue gets you excited to be in Steamboat Springs this spring.
- Allison Miriani