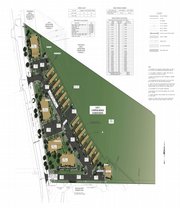 Steamboat Springs — The Steamboat Springs Planning Commission voted, 4-1, Thursday night to recommend approval of Elk River Village.
The proposed housing development on the city's near west side would include at least 34 deed-restricted affordable housing units.
The recommendation for approval came in spite of the fact that several of the commissioners voting to approve expressed reservations about the difficulty of pedestrian, bicycle and mass transit connections to the site on the north side of U.S. Highway 40.
"I'm terribly concerned about safety and where kids play," Commissioner Tom Ernst said.
The project would be built on 10 acres off Elk River Road, a short distance from the intersection with U.S. 40. The developer is the Yampa Valley Housing Authority.
The Housing Authority is seeking to build 54 multi-family condominiums spread across four 12-unit buildings and one six-unit building. In addition, it would develop 13 single-family lots for 900-square-foot, single-family homes.
Commissioner Brian Hanlen moved to approve Elk River Village and Ernst seconded the motion. Commissioner Cedar Beauregard cast the one dissenting vote, and Commission Chairwoman Kathi Meyer stepped down because she is a member of the Housing Authority board.
Beauregard based his opposition on his belief that a development comprised entirely of residential units did not meet the intent of the commercial zone district. He said zoning near Copper Ridge Business Park calls for vertical mixed-use developments with housing above commercial units.
Senior City Planner Bob Keenan said staff based its recommendation for approval on a finding that the large number of affordable units, and other qualities, provide significant public benefit.
Both Hanlen and Ernst said they found enough merit to approve the project in spite of their concerns about safety and access.
Hanlen said the fact that the site is surrounded by commercial and light industrial uses makes it somewhat inappropriate for a housing development. He is concerned that the only play area in the site plan would not be an alternative for older children.
"I think the isolation will be a hardship on residents," he said.
"It's not pedestrian-friendly at all," Commissioner Sarah Fox added.
"That's a good point," Ernst said. "There are going to be 150 people living there."
Vice Chairwoman Karen Dixon suggested her fellow commissioners were underestimating the use older children would make of the project's internal loop road for playing Frisbee and other games in the street, just as children do in her Old Town neighborhood.
Assistant Planning Director John Eastman said that during a recent scoping session including city and Colorado Department of Transportation officials, the entire U.S. 40 corridor from 13th Street to Elk River Road had been identified as a pedestrian district that needs improvement.
"Improving it is a high priority for the city," Eastman said. However, he added that construction of those improvements is probably at least four years in the future.
Housing Authority Executive Director Donna Howell reminded the commission that land costs, the cost of building infrastructure and even the cost of money are all factors that present increasing challenges in her organization's mission to maximizing affordable housing units in its projects.
"Every decision we make that affects these costs ultimately determines how many affordable housing units we can provide," Howell said.
Housing Authority Assistant Director Curtis Church said they also take care about how many amenities they build into affordable projects because, throughout time, the maintenance of amenities such as barbecue areas affect the long-term affordability of the homes. He pointed out that the Yampa River Core Trail, less than a mile away via Curve Plaza on the south side of the highway, represents good connections to the city's network of pedestrian and bicycle paths.
- To reach Tom Ross, call 871-4205
or e-mail tross@steamboatpilot.com