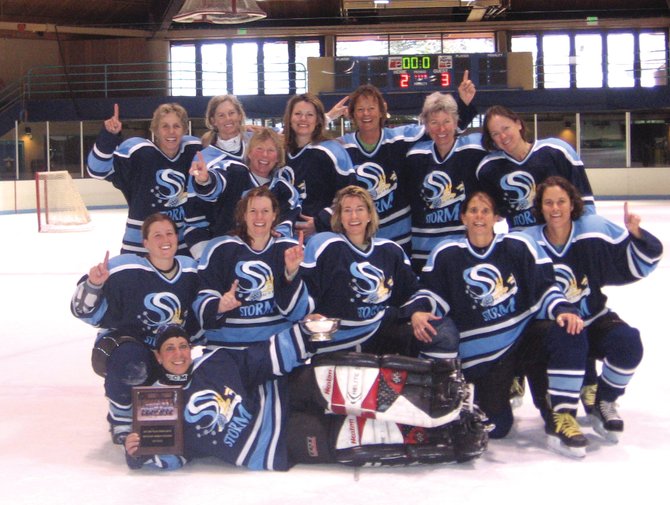 Storm takes title in shootout
Steamboat women's hockey team rallies for big win
Steamboat Springs — The Steamboat Storm women's hockey team made the most of its weekend trip to Vail for the Women's Association of Colorado Hockey Mountain Division "B" playoffs.
The Storm, entering the tournament as the fourth seed, won four consecutive games to claim the championship for the second time in the team's history.
Sunday's noon championship was a very well-matched game, as Aspen was on the board first with a goal early in the first period. The Storm answered in the beginning of the third period with a face-off win from Shelia Farney to Alexa Pighini and then to Susie Leeson, who lifted the puck over the Aspen goalie and into the net.
The game went into a five-minute sudden death overtime and, finally, ended in a five-player shootout. Storm goalie Angie Harding, who had let only two goals in so far for the weekend, surrendered only one goal in Aspen's five attempts.
Farney and Deb Rose scored for Steamboat, securing the win.
The Storm started off their tournament play against the Craig Puck Ewes on April 4.
The Storm went 1-1-0 with the Ewes during league play this season, but fought hard and ended up winning their playoff opener, 3-0. The first goal came in the beginning of the second period with a pass from Kelly Halpin to the stick of Laurie Milne who tipped the puck past the Craig goalie. The second goal for the Storm came from a face-off pass from Farney to Pighini, who shot from the point. The third goal that sealed the win came in the third period as Rose scored in an open net.
The Storm played the Divas on April 5 and had little trouble. The Storm swept past the Divas with a 7-1 win. Steamboat compiled 25 shots and got goals from Pighini, Milne, Farney, Kim Bonner, Diane Anderson and Susie Leeson.
The team secured its spot in the championship Saturday night by edging out Vail, 1-0. Pighini scored the goal off a Farney assist.
Chix prep for tournament
The Steamboat women's Chix with Stix hockey team will travel this weekend for the WACH "B2" division tournament. The team will enter the tournament as the No. 2 seed with a 9-4-2 record in the division and a 13-5-2 record on the season. The Chix will face Fatty's Fury in the opening round.