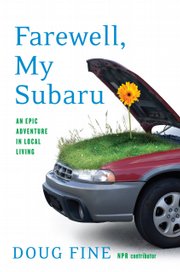 If you go
What: Book signing with Doug Fine, author of "Farewell, My Subaru: An Epic Adventure in Local Living"
When: 7 p.m. today
Where: Epilogue Book Co., 837 Lincoln Ave.
Cost: Free
Call: 879-2665; check for periodic
updates on Fine's life on his New Mexico plot, Funky Butte Ranch, at www.dougfine.com
Steamboat Springs — Before he started to erase his carbon footprint, Doug Fine did not know how to raise goats.
Actually, he's still iffy on the subject.
But in 2006, he decided to live off them - and the land - in an experiment that would pit a born-and-raised surburbanite against a fossil-fueled society, living instead off all things organic and local. Fine chronicled the results in his book, "Farewell, My Subaru: An Epic Adventure in Local Living," which he'll sign at 7 p.m. today at Epilogue Book Co.
A journalist by trade - his previous stints have taken him to five continents and include working as an adventure journalist for National Public Radio - Fine has a knack for purposeful storytelling.
In "Farewell," his primary gripes with the simple life are, well, simple. They usually involve the inherent danger of trying to do things you don't know how to do, such as installing solar wiring or climbing around on a snowy roof to do so.
Fine talked with the Steamboat Pilot & Today about letting go of oil, learning how to live locally and the creature comforts of going green.
STEAMBOAT PILOT & TODAY: What made you decide to live without oil?
DOUG FINE: I think that green is more than just for environmentalists or even for progressives. I think people are recognizing now that society has to be sustainable to continue - that actually, "green" is patriotic.
I wanted people to see that a guy without any skills in these areas : if I could do this in ways that regular folks who were concerned about the environment but don't have a lot of time can do, they can do it, too.
SP&T: Did you have any experience in any of this - raising livestock, installing solar panels?
DF: None. So much of the book is about me doing things wrong, and it's totally OK for people to laugh at me.
I grew up in the suburbs of New York, eating those baseball tomatoes from the supermarket.
SP&T: What was the biggest challenge you had?
DF: Defending my chickens from predators, especially coyotes. I felt like Elmer Fudd out there with my shotgun protecting my chickens.
SP&T: Is there anything that you miss about suburban life? Anything you gave up?
DF: The truth is, I feel like I haven't given up really that many comforts.
I don't even notice that I'm on solar power - I've got a washing machine, a fridge, a stereo. : The hardest part was trying to do solar wiring myself, and nearly electrocuting myself. : I'm in the happiest period in my life right now, having a place I really care about.
SP&T: Without having to move to a ranch, are some of these changes possible for people living the suburban life?
DF: Definitely, that was one of my major goals. I would say probably 90 percent of what I attempt, anyone can do. You can make major differences in reducing your fossil fuel (consumption) while maintaining your comforts, even a motor vehicle (Fine drives a truck fueled by refuse oil from a Chinese restaurant).
If you want to get fossil fuels out of your life and still live like an American, you can do it tomorrow. : You don't need any skills or special powers.