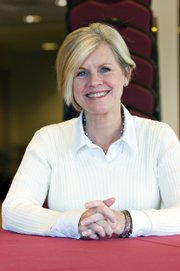 Steamboat Springs — Provided contract negotiations go smoothly, Dr. Shalee Cunningham will be the Steamboat Springs School District's next superintendent.
The School Board voted 3-2 Monday to begin negotiating with Cunningham, an educational consultant who has held superintendent posts at three California districts. Her most recent stint ended in 2000.
The board discussed its two top finalists at Monday's meeting: Cunningham and Brush School District Superintendent Bret Miles. Christian Cutter of Colorado Springs School District 11 also had been a finalist.
Board President Robin Crossan applauded Cunningham's confidence and poise as well as her strong background in finance, curriculum, planning and public relations.
"Those are many of the things we absolutely need in our district, and she has proven herself in those already," Crossan said.
After the discussion about Cunningham and Miles, board member Laura Anderson moved to offer Cunningham the position. Board member Denise Connelly seconded the motion. Anderson, Connelly and Crossan voted in favor of it.
Board members Lisa Brown and John DeVincentis voted against the motion, preferring Miles for the job.
Miles has been the superintendent in Brush since 2003 and has served as a principal. Some board members said they were concerned about his lack of experience as a superintendent. Connelly said she thought the board would be taking a risk by bringing Miles into the challenging arena of Steamboat schools.
All board members said they were impressed with each candidate and could work with any of them.
"I think they're both good choices," Anderson said. "I think together we make a powerful team with anyone we pick. I feel also that I have to go with the experience and the fit that this community deserves."
The board got in touch with Cunningham immediately after the vote.
"She was very excited," Crossan said. "She said we've made her day and she's looking forward to coming to Colorado."
Crossan said board members spent about 45 minutes in executive session Monday reviewing contract basics. The board's attorney and board members will review a draft contract proposal today or Wednesday, Crossan said. When the original offer is finalized, it will be presented to Cunningham. Crossan wasn't sure about the specific timeline for the negotiating process.
Cunningham would replace interim Superintendent Sandra Smyser, who was a finalist for the position but instead accepted a job as superintendent of the Eagle County School District. She starts there July 1.
Cunningham recently was a finalist for the superintendent position in Durango. The School Board there voted 6-1 to hire Cunningham, but she withdrew her application shortly after a site visit by Durango school representatives. Cunningham has declined to discuss the specifics of what happened.
"I can just tell you that when we met, we agreed that it was not going to be a good fit," Cunningham told the Pilot & Today two weeks ago.
Also at Monday's meeting, the board heard concerns about the proposed all-day kindergarten plan. Although the district can accommodate all 110 children whose families have expressed interest, elementary school principals said, the estimated cost per child would be up to $570 a month.
Three mothers attended the meeting to express concern about that figure, and several board members said they also found it high. The board asked Soda Creek Elementary School Principal Judy Harris, Strawberry Park Elementary School Principal Brenda Barr and district Curriculum and Instruction Director JoAnne Hilton-Gabeler to return in a month with more information.
The board also heard growth projections for the district. If growth continues as expected and the Steamboat 700 development goes forward as planned, representatives of Western Demographics said the district should grow by 450 to 480 students in the next 50 years.
To accommodate that in the long term, Western Demographics officials said the district probably would need four elementary schools, two middle schools and one high school.