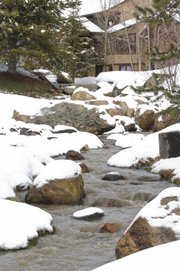 Steamboat Springs — The city of Steamboat Springs' urban renewal authority and private property owners are close to signing a contract ensuring the ongoing operation and maintenance of a planned promenade around the immediate ski base.
The agreement will see Steamboat Ski and Resort Corp. assuming responsibility for promenade operations and maintenance including watering, pruning, weed control, pest control, irrigation, cleanup of trash, debris and other litter, mowing, trimming, fertilization, snowmelt and decoration of trees and plants. Ski Corp. will in turn sign a contract with other base-area property owners. Costs will be allocated among property owners based on the square footage of promenade improvements on each property.
The agreement will be reviewed at 4 p.m. today when the Steamboat Springs City Council convenes as the Steamboat Springs Redevelopment Authority. Within its base area boundaries, the authority receives property and sales taxes above a base amount to repay the bonds it issues to finance projects, such as the new Ski Time Square roundabout and the planned promenade. The maintenance contract is crucial to the progress of the promenade because city officials have said they will not invest in public improvements on private property without assurances that the improvements will be maintained.
Malcolm Murray, the URA's lawyer, said there is one major outstanding issue when it comes to the agreement. Property owners would like to see a reserve fund created to pay for major repairs or replacements, but legal considerations make that difficult for the URA.
"The main reason it's not allowed is the federal tax laws prevent public agencies from issuing bonds and then just stashing the money away for use in the indeterminable future," Murray said.
It also would prove problematic to put any of the URA's tax increments in such a fund, Murray said, because those funds are dedicated to bond repayment, which may continue for decades. Murray said the property owners have other options, such as creating a special district to tax themselves and fund a reserve.
"There are ways to do it," Murray said. "What I've suggested is if and when you need to fund something, everyone takes a look at it and decides what the most appropriate way to fund it is."
Jim Schneider, Ski Corp.'s vice president of skier services, said the fund would not be for routine maintenance but for major costs such as replacing a gas-fired snowmelt system. Schneider said property owners are getting closer to resolving the issue, though "some owners are very adamant that they don't have to budget for major maintenance."
Schneider said Ski Corp.'s decision to take the lead on the operations and maintenance agreement arose from the city's wish to deal with only one entity. As the base-area property owners set to forming a new nonprofit entity to represent them as a whole, Schneider said they began to ask whether it was worth the trouble. Schneider said snow storage and removal is the most significant issue for the promenade.
"We're in the snow business," Schneider said. "We can push and move snow around as well as anyone."
Murray and Redevelopment Coordinator Joe Kracum praised Ski Corp.'s willingness to take the lead.
"It gives the SSRA only one party to deal with rather than five or more," Kracum said. "I thought it was a real good gesture."
Ski Corp. will assume full operations and maintenance responsibility for the URA's other keystone project: the daylighting of Burgess Creek through the ski base.
"The truth is, we're the ones covering it up with snow and probably the ones who would damage it," Schneider said.
Ski Corp. also volunteered to maintain a sidewalk to be constructed this summer that will border property owned by Snowflower Condominiums. Snowflower residents had expressed an unwillingness to maintain the sidewalk and threatened not to grant easements the URA needs to complete projects this summer.
"We've got to keep the momentum : going, and in the big picture that wasn't worth stopping it," Schneider said. "It's never as fast as anyone up here wants it to happen, but we're getting there, closer by the day."
Also today, Kracum will ask City Council to pass a number of resolutions authorizing this year's reconstruction of the AprÃs Ski Way and Mount Werner Road intersection and design work for future projects. Assuming tonight's passage of the resolutions, Kracum said construction will begin April 21, weather permitting. The $2.4 million project has a Sept. 15 completion date.