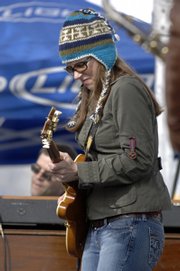 Steamboat Springs — A record-setting ski season ended Sunday with songs, shouts and splashes.
Steamboat Springs residents and visitors spoke glowingly of the season and the biggest snowfall on record: 489 inches. The Steamboat Ski Area shut the mountain down with music from The Radiators and then Susan Tedeschi, and hundreds of people in costumes and standard mountain wear filled the slopes and Gondola Square for the action.
The ski area held its first Splashdown Pond Skimming event as part of closing weekend festivities. As tunes blared, skiers and snowboarders sped down Headwall ski trail, aiming to skim across a pond at the bottom and pop safely onto the snow on the other side.
Success was elusive, and many competitors wound up in water that Winter Olympics medalist and event announcer Jonny Moseley described as "arctic."
About 30 people participated. Spectators squashed together along the sideline fences, cozy with their beers, encouraging and heckling the stars of the show.
Steamboat native Rich Rende picked up major applause for his snowboard run across the pond. But the buzz might have been more about his costume: a Mexican wrestling mask, a blue tank top, blue swim briefs and a red cape featuring a banana wearing blue briefs.
"I've never felt so free in my whole life," he said after the competition.
Rende took home a season pass for next year. He said he would compete again in the skimming event, adding that he was a fan of wearing a "mankini" (a bikini for a man, presumably) in public.
"It takes a lot of pumping up to get warm enough to wear a mankini in the snow," Rende said.
Out-of-towners also flocked to the mountain in garish garb. Ralph Eberspacher of Fort Collins wore a dreadlock wig and a red sequined suit as he took in The Radiators' set.
"It's disappointing that there's not more people dressed up," Eberspacher said. Even his 9-year-old son, Andre, had donned a whoopee cushion costume to hit the hill.
Back at the skimming pond, competition to stay out of the cold water was heating up.
Steamboat resident Tara Johnson didn't quite make it across, crashing into the frosty water in her bikini, grass skirt and seashell bra. Johnson couldn't seem to get enough of the pool, hopping in to rescue someone else's ski and diving in with other winners after the competition.
She took second place despite her fall. Johnson said she was thrilled to compete in the event and thrilled about the ski season.
"This is why I live here," she said. "I've lived here seven years, and I've been waiting for this winter. It was the best winter ever."
Skier Joe Love took No. 1 at the splashdown. He was the only competitor to successfully cross the pond backward - a fitting feat for a man wearing his ski suit inside out. The '80s-style geometric pattern deserved to be shown off, he said.
"Somebody spent a lot of time designing the inside," Love said.
The three-year Steamboat resident also spoke effusively about the season.
"It was a dream come true," Love said. "I don't know what to do with myself now. How is it going to get better? I might as well leave."
- To reach Blythe Terrell, call 871-4234
or e-mail bterrell@steamboatpilot.com