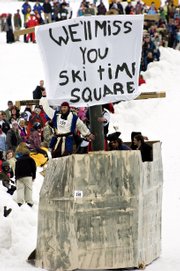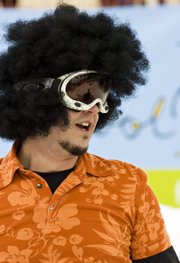 Results
- 18 and younger
Most Creative: The Yellow Crane
Potpourri: Billy De Fish
Best Reproduction: The Mystery Machine
Judge's Pick: The Cheetah Girls
- Adults
Most Creative: The KVC Cruiser
Potpourri: The Pirates of Steamboat
Best Reproduction: The S.S. Vail Sucks Part Deux
Judge's Pick: The Undercover Sheriff
Steamboat Springs — Cardboard Classic participants are limited to only a few construction materials - cardboard, duct tape, masking tape, string and water-based paint, but Lew Cutter decided to push the envelope and duct tape chairs to his craft.
"I'm planning to ride the camp chairs - we'll see how long that lasts," Cutter said.
In addition to two entries from the Boy Scouts of Troop 194, troop leaders such as Cutter also had their fun, sending a whimsical campsite entry sliding down Headwall during the 28th annual SmartWool Cardboard Classic at the Steamboat Ski Area on Saturday. Their campsite entry was complete with a fake campfire, marshmallow roasting sticks, pup tents and a camper-eating bear.
"We just took one of our pictures from our past camping trips and replicated it," Cutter said. "We thought this was going to be a Spruce Goose, but every time we step on it, it takes off."
A total of 50 crafts entered the annual competition, rendering the event smaller and shorter than years past when the number of entrants was unlimited. This year, Cardboard Classic entries cost $10, and Steamboat Ski and Resort Corp. and Steamboat Springs police cracked down on alcohol consumption and unruly behavior.
Nonetheless, onlookers lined both sides of Headwall, cheering for speedy crafts, spinouts and the trail of debris left by a cardboard space shuttle entry.
Steamboat Ski and Resort Corp. has not yet determined whether this year's new restrictions will become permanent, spokeswoman Heidi Thomsen said Saturday.
"We'll evaluate this year, but overall I think it went pretty well," Thomsen said.
Although Cutter was there with a troop of Boy Scouts in tow, he was less than pleased with the "Cardboard Classic crackdown."
"The more we put rules on it, the more people are going to push back when you finally let 'em loose," Cutter said.
"Sure there's a couple of bad apples out there, but I feel like the crackdown has sort of limited the creativity," Cardboard Classic veteran Jim Fletcher said.
Scott Lewer was appreciative of the new rules. He brought his three sons to the event Saturday and said he was happy that Ski Corp. was "cleaning up" the event.
"It's been dangerous in the past, and I wouldn't bring the kids there," Lewer said.
As is typical of the Cardboard Classic, some crafts were thrown together at the last minute, including the entry by the "stubers" - the former snow tubing employees at Howelsen Hill. Their original design was altered when supplies ran low.
"It was supposed to be a big tube, but we ran out of cardboard, so now it's a teacup," team member Courtney Date said, "with flowers and fairies."
Other teams spent days, weeks and even months prepping their crafts.
Hal Glanville and his team of construction company employees worked on their entry, "The Cobra," on and off for about a month. Glanville was happy to be participating in his first Cardboard Classic, riding his team's blue speedboat among the younger competitors.
"I like all the kids out here having a good time - I think it's just neat," Glanville said. "I'm the old man on this one."
Although his craft, "The Jam Box," didn't win any awards, Wesley Harmon had an acceptance speech ready.
"We'd like to thank (Steamboat) Ski and Bike Kare - we got all our cardboard from them. I'd like to thank my mom for putting up with us. And we'd like to thank Wal-Mart for all this wonderful colored duct tape," Harmon said.
Harmon and his teammates matched their brightly colored ski suits to their florescent cardboard contraption.
"When dudes don't have anything to do, it leads to silliness," Harmon said. "And totally amazing cardboard boom boxes. We even have a tape deck and an antenna so we can pick up NPR."
The largest crafts, a "Phaterpillar" bulldozer and a pirate ship flying a "We'll Miss You Ski Time Square" flag, sailed down Headwall at the end of the competition, carrying longtime Cardboard Classic competitors.
"I wish it went faster," Marc Wettermann said, clad in full pirate regalia. "I thought for sure we were going to hit the side and flip."
The giant bulldozer - built by Fletcher's team - even fooled some onlookers.
"I thought it was fake when I saw it from the parking lot," Lewer said. "I mean, I thought it was a real bulldozer."
In his sixth Cardboard Classic, even Fletcher learned something new Saturday.
"We learned definitely measure your garage height a little better," he said. "We were scrapin'."
- To reach Melinda Dudley, call 817-4203
or e-mail mdudley@steamboatpilot.com