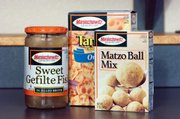 Recipes
Matzo Pancakes
Matzo meal
Whipped egg whites
Separated egg yolks
Oil
1. Combine matzo meal and egg yolks to a moderately thin, pancake-like consistency.
2. Whip egg whites until they multiply in volume.
3. Fold matzo/yolk mixture with egg whites.
4. Fry spoonfuls of the matzo mixture on a griddle with more oil than you would use for a normal pancake. It's not deep-frying, but you need more oil than usual to keep the matzo meal from sticking.
Matzo Ball Soup
- Matzo balls:
4 large eggs
1/2 cup seltzer water or water
1/2 cup margarine, melted
1 tsp salt
1/2 tsp pepper
1 cup unsalted matzo meal
8 cups water
One 32-ounce contained kosher chicken broth
1. Beat the eggs with a mixer for two minutes, or until they get frothy. Add the seltzer water and the next three ingredients; beat well. Add matzo meal, and beat until batter starts to thicken (takes about two minutes).
2. Cover the mixture with plastic wrap, and chill for at least an hour (they will not stay together at room temperature).
3. Bring water and chicken broth to a boil in a large Dutch oven over medium-high heat. Reduce heat, and simmer.
4. Wet your hands and shape batter in your palms, to form about a dozen (2-inch) balls.
5. Drop the matzo balls into the simmering broth mixture. Cover and cook for 20 minutes or until the matzo balls double in size. Add matzo balls to soup and discard cooking broth mixture.
- Soup (basically, chicken soup):
Celery stalks, sliced
2 carrots, peeled and sliced
2 parsnips, peeled and sliced
Two 32-ounce jars of kosher chicken broth (or water, but broth is better)
6 cloves of garlic, minced
1 small onion, chopped
1/4 tsp pepper
Chopped kosher chicken breast (optional, to desired consistency)
Fresh parsley, thyme, dill and bay leaf to taste
1. Bring the ingredients to a boil in a Dutch over, or large soup pot.
2. Tie fresh herbs together and add to the mix.
3. Bring the soup to a boil over medium heat.
4. Reduce heat, cover the soup and let it simmer for (at least) 30 minutes.
5. Get rid of the herb ties. Add prepared/cooked matzo balls to the soup when serving (two a ball is about right).
Passover Tzimmes
2 pounds sweet potatoes
1 pound carrots, peeled and sliced
1/2 cup margarine
1/4 cup brown sugar
1/4 cup honey
1/2 tsp cinnamon
1/4 tsp nutmeg
1/2 cup orange juice
1 cup prunes
1. Bake the sweet potatoes until they're tender, then peel them and slice into smallish cubes.
2. Put the carrots in a saucepan, cover them with water and boil the carrots until they're tender.
3. Combine margarine, brown sugar, honey, cinnamon, nutmeg and juice in a saucepan. Bring the mix to a boil, and add the potatoes and carrots.
4. Reduce the heat and simmer the mixture until it gets thick, no more than 30 minutes.
Passover Brownies
1/2 cup margarine
1 1/2 cups sugar
4 eggs
7 tbsp sifted cocoa
1/2 cup water
1 cup matzo cake meal
1/2 tsp salt
1. Preheat the oven to 350 degrees.
2. Cream the margarine and sugar until it's fluffy.
3. Add the eggs one at a time. Add the cocoa. Combine the cake meal and salt, then add the mix in small intervals. Mix it up until it's blended.
4. Pour the mixture into a greased 9-inch baking pan, and bake for 35 to 40 minutes.
Charoset
1 cup walnuts or pecans, finely chopped
4 apples, peeled and grated
1 tsp cinnamon
3 tbsp sugar
7 tbsp sweet red wine
1. Combine all the ingredients. Let it soak for a while.
Steamboat Springs — Passover doesn't get started until sundown on Saturday, April 19, but local grocery shelves have been stocked with holiday staples for weeks.
That's because Passover - the eight-day festival that functions as a celebration of freedom for people of Jewish faith - can come with a continuum of dietary restrictions. And while a traditional Seder, the special feast on the first night of the festival, must be prepared without flour, rice, wheat, barley, oats, lentils, beans, peas, millet, maize or corn, there are a number of traditional dishes to be served.
"Having a Passover Seder, it's basically a time to have friends and family and everyone in the community that needs to have a place. It's very community-oriented," said Linda Liman, of Steamboat Jewish congregation Har Mishpacha.
Aside from a Seder plate filled with symbolic foods, the menu usually includes matzo ball soup, matzo, gefilte fish and a host of favorite unleavened dishes.
While mixes for soup and matzo balls are readily available in almost any supermarket, Liman said she doesn't have a definite recipe.
"It seems like you just kind of get it from your mom, and everyone has their own ways of making matzo balls," she said. One of her tricks is to make the broth for the soup - which she boils with skin-on chicken - the night before, so the fat can be skimmed off before serving. Boiling the matzo balls just right to avoid a solid, leaden center also takes practice, Liman said.
While Liman uses cookbooks to find new favorites, she said dishes such as matzo ball soup and brisket usually come from further up in the family tree. She remembers finding her grandmother's made-from-scratch take on gefilte fish significantly less noxious than the clear jars of fish composite packed in jelly that are found in stores.
"For some reason, I used to like it when I was younger, but that was probably before I saw it floating in the gel," Liman said.
Dishes such as matzo ball soup have a little more year-round staying power.
"There's nothing better than a bowl of matzo ball soup on a cold evening," said Paula Salky, who teaches Sunday school classes for Har Mispacha.
Liman and Salky shared some of their favorite Passover recipes.