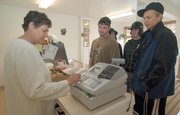 Oak Creek — Judy's Country Donuts & Bakery had been open less than a week, and owner Judy Deming already had a cadre of regulars.
The customers are great, Deming said, but her doughnuts - the only fresh-baked ones in South Routt - have been flying out of her display case so fast that people who stop in near the end of the business day often leave disappointed.
"This is all we have left - you should've been up early," Deming joked with mid-morning customers Thursday.
"I usually am, but I have to go feed cows," customer Dennis Morgan said, in the bakery Thursday for a chocolate doughnut and milk with classmates from Soroco High School. "We come here almost every day."
Deming has been busy since her grand opening March 30, and still is working on calibrating her early morning baking to her customer traffic. Several days last week, Deming closed up shop early when she ran out of doughnuts.
"Yesterday, we had some left, today we're selling out," Deming said.
At the time of their grand opening, the Demings had in stock what they thought were enough baking supplies to last five weeks. On Friday, their fifth day in operation, Judy's husband Mike already was heading to Denver to restock.
For Judy's Country Donuts & Bakery's grand opening, attendees from Steamboat to Yampa lined up outside for their first taste.
"We made 1,000 doughnuts. We had a huge line outside - we couldn't make enough. It was unreal," Deming said. "We couldn't get the doughnuts out fast enough - the frosting wouldn't even stick to them because they were so hot."
The Demings, who relocated from Havasu City, Ariz., to Yampa two years ago, had previously managed a doughnut shop owned by some friends.
Photos on the walls of Judy's Country Donuts & Bakery pay homage to the building's history. In 1940, the building was a beauty shop; Deming served a doughnut last week to a local who remembered having her hair done there as a child. In 1952, the building became a bakery.
Most recently, it sat vacant on Main Street for a number of years. Construction delays pushed back the doughnut shop's scheduled opening from October to March.
"There were holes in the floors; there was no sheetrock; everything was destroyed," Deming said. "It was a chore to do it. There were times I felt like giving up."
In addition to selling doughnuts out of her Oak Creek storefront, Deming sells them wholesale to Steamboat businesses, with her husband running deliveries. Eventually, she hopes to expand the business with a Steamboat storefront, but plans to keep all baking operations in South Routt.
Deming also plans to expand the bakery side of her operation to include wedding cakes, cookies and breads, as well as sweets for diabetics, which aren't available in South Routt, she said. She also plans to add an ice cream bar this summer, in time for Triple Crown participants.
Prices at Judy's Country Donuts & Bakery range from 70 cents to $1.25.
"My prices are low, and I give seniors 50 percent off, because they have a hard time. I figure they need to enjoy a doughnut, too," Deming said.