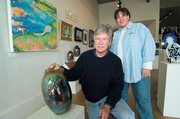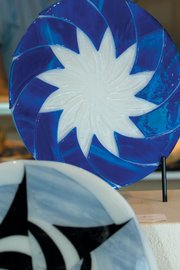 Past Event
Friday, April 4, 2008, 5 p.m. to 8 p.m.
Artists' Gallery of Steamboat, 1009 Lincoln Ave, Steamboat Springs
Not available / Free
Steamboat Springs — It's a little more hectic than normal on hanging day at the Artists' Gallery of Steamboat as the gallery's 27 members teeter on stepladders and carefully balance prints on wooden stands.
They're reorganizing the space for a two-month show that will feature each of the gallery's contributors, from 2-D painters to 3-D mineral artisans. Each artist will have one piece in the gallery's front room, with more work hanging on back walls.
When Dancy Gould St. John went through this process for the first time in November 2006, Artists' Gallery had 22 members.
"Now there are 27 artists, so we're just trying to figure out how to get them all up there," she said, balancing on the top rung of a short ladder to hang fabric works by Denise Bohart Brown.
She and Barb Sanders, who makes photographic etchings, are working on keeping the middle of the gallery's side room from looking too cluttered - a challenging task with so many artists and with so many new or recent works to get off the floor and on the walls.
"It's fun, we're all just palling around together, and our work is hanging in a very democratic way. And everyone tries to put fresh pieces out, even still," Sanders said.
Susan Gill Jackson, an oil painter, worked on evening out her series of landscapes, taken from the alley behind the gallery. Each piece takes a different angle of morning light hitting the narrow passage, and Jackson has spotted the scenery with elk.
"The challenge was painting the snow - but I love that challenge," said Jackson, whose paintings are among the few in the mud-season show that feature wintry scenes.
"And I just threw the elk in there because they felt like part of the snow," she said.
The all-gallery exhibit will stay up through the end of May and is part of the First Friday Artwalk sponsored by the Steamboat Springs Arts Council.