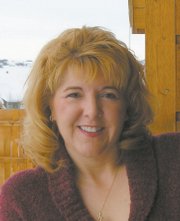 Steamboat Springs — Steamboat Springs attorney and former Routt County Deputy District Attorney Tammy L. Stewart is running as a Democrat for District Attorney of the 14th Judicial District. She will formally announce her candidacy next week.
District Attorney Bonnie Roesink, a Republican, is retiring at the end of her current term after 21 years as a prosecutor in the 14th Judicial District.
Stewart will be challenged by Grand County prosecutor Elizabeth Oldham, a Republican.
Stewart was a prosecutor for 12 years and served as Deputy District Attorney in Routt County from 2005 to 2006.
"I left the office because of a difference in management perspectives - there was almost 100 percent turnover while I was a DA," Stewart said Wednesday. "We need to get qualified people that can afford to live here and are satisfied with the management and want to stay."
Since her departure, Stewart opened a private law practice in Steamboat Springs, specializing in criminal defense and family law. She is a part-time assistant county attorney in Moffat County, where she prosecutes child abuse cases.
"You do this kind of work as public service," Stewart said. "I have the experience right now that our jurisdiction needs to move forward."
"This has been her lifelong dream," said Carl Haslett, Stewart's husband and campaign treasurer.
At the Routt County Republican Party's March 8 County Assembly, Oldham listed methamphetamine, domestic violence and the lack of public confidence in the District Attorney's Office as the biggest problems facing prosecutors in Routt, Moffat and Grand counties.
Oldham also expressed her desire to create a citizen's advisory board for each of the 14th Judicial District's three counties. She could not be reached for comment Wednesday.
Stewart also addressed the District Attorney's Office's reputation in the community, saying there needs to be more careful oversight about which cases are filed.
"You can destroy people's lives by filing cases that shouldn't have been filed or if you dismiss charges later because you don't have enough evidence," Stewart said.
Stewart envisions a more hands-on district attorney, emphasizing that it is critical to visit each county in person at least once a week to stay abreast of case developments.
"The DA needs to be trying cases," Stewart said. "If there's a murder case, the DA needs to be on that prosecuting team."
Stewart will formally announce her candidacy at 12:15 p.m. Monday in front of the Routt County Courthouse. She also will host announcements Monday in Moffat and Grand counties.
- To reach Melinda Dudley, call 871-4203
or e-mail mdudley@steamboatpilot.com