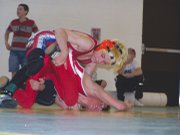 Steamboat, Hayden and Soroco middle schools each qualified multiple wrestlers for the first Middle School State Wrestling Championships in Loveland this Saturday.
The wrestlers qualified at the Section 6 wrestling tournament in Grand Junction last weekend. The sectional was the largest in Colorado and advanced the top seven wrestlers in each weight category.
Hayden led the way, qualifying seven wrestlers for the state tournament and finishing third as a team behind Gypsum Creek and the Little Warriors from Grand Junction.
"This is a historic event for these kids," Hayden coach Dallas Robinson said. "I think the kids are just starting to come to grips with the scale and magnitude of this event."
Kaiden Decker (second), Austin Cless (fourth), T-Lane Mazzola (first), Chad Terry (second), Nick Williams (fifth), Mark Doolin and Nathan Mack (seventh) qualified for Hayden. Mazzola's win at 85 pounds continued his undefeated streak.
Steamboat Springs' Nick Rossman and Casey Williams also qualified for the state tournament, while Colton Martindale and Richard Gonzales of Soroco qualified.
The state tournament begins at 8:30 a.m. Saturday at the Budweiser Event Center in Loveland. Preliminary and semifinal action runs until 4 p.m. before the building is cleared in preparation for the 6 p.m. finals.
Steamboat middle school wrestlers pick up win
Any questions about whether wrestling in Steamboat was dying were quickly answered Saturday in Meeker.
For the first time since coach Shane Yeager could remember, the Steamboat Springs middle school wrestling program not only won a tournament, but also did so in dominating fashion.
Steamboat beat East Grand, West Grand, Meeker, Craig, North Park and Soroco to take home the team championship. The team also got individual championships from Thomas Tuthill and Garrett Pugh.
Other Steamboat wrestlers who placed included: Aaron Higgins (second), Connor Glynn (second), Dane Koepfer (third), Thomas Kelly (fourth), Grant Mader (second), Taylor Dillard (fourth), Colton Mahanna (second), Max May (third), Connor O'Brien (third), Scott Powers (third), Brandon Yeager (second), Tyler Gness (fourth), Cole Sittig (fourth) and Sean Seams (fourth).
"I have no idea when the last time we won one is," Yeager said. "I can't tell you the last time we beat Craig."
The event wrapped up the season for the 23 middle school-aged wrestlers. Yeager said the development and growth of the program at the middle school level should bode well for the high school program for years to come.
"Looking ahead, I'll bet three or four of those eighth-graders will wrestle next year," Yeager said. "Wrestling is coming back to Steamboat, and it will be around for a while."
Local skiers finish well
at Wolf Creek Ski Area
Drew Kohake and Karen Kohake took home medals in the Final Fun Day Race at Wolf Creek Ski Area on Sunday.
The Fun Races are open to skiers and snowboarders of all ages.
Drew finished second in the men's 18- to 20-year-old category, while Karen took the top spot in the women's 51- to 60-year-old category.